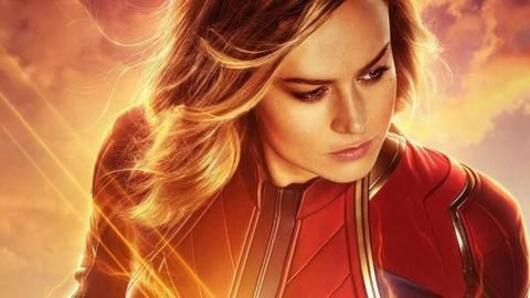 New 'Captain Marvel' promo shows Iron Man and Captain America
Captain Marvel is about to fly into our theaters on March 8. While fans are hyped for the film, Marvel Studios is turning up the excitement through the new promo that they released on Instagram.
The promo shows some of the most iconic Avengers and adds Captain Marvel to the list while asking what exactly makes a hero.
Read all about it here.
Some are born to greatness, some are destined to it
Credits:
The promo video's caption encompasses the message perfectly, "Some are built. Some are made. Some are born. On March 8, witness the rise of a hero".
The clip shows the genesis of various superheroes including Iron Man, Captain America, and Thor.
It then goes on to show Brie Larson's Captain Marvel as she steps into the role of the most powerful Avenger, yet.
Love Entertainment news?
Stay updated with the latest happenings.
Yes, notify Me
Stark's suit, Roger's body, Thor's hammer, promo clip shows all
The clip shows Stark building his first Iron Man suit in the caves of Afghanistan, then moves on to a shot of Steve Rogers before he undergoes the experiment with the super-soldier serum which makes him into Captain America.
Having shown the heroes who are made, the clip then shows Thor, a born hero, as he regains Mjolnir, having been deemed worthy of it.
'Discover what makes a hero', urges the promotional video
Credits:
Towards the end of the clip, we see the genesis of Carol Danvers as Captain Marvel, from her time as a fighter pilot to her training as an elite Kree warrior.
However, it is only when Danvers is in full battle attire as Captain Marvel, fighting in outer space, that we get a sense of a new and powerful hero's arrival in the MCU.
While fans loved the promo, first screening gained positive reviews
Fans loved the promo with some saying, "Probably my favourite TV spot for Captain Marvel".
Not just the promo, but the first screening of the film was met with positive reviews too. Brandon Davis of Comicbook.com saying, "Fans of #CaptainMarvel comics are going to love the movie. Plain and simple".
Angie Han of Mashable simply tweeted, "#CaptainMarvel: Well, Thanos is f**ked".
When is Captain Marvel releasing?
Asked 2019-02-22 14:40:13 by Muhammad Powar
Answered by NewsBytes
Captain Marvel is releasing on March 8, 2019.
When is 'Avengers: Endgame' releasing?
Asked 2019-02-22 14:40:13 by Vivaan Sharma
Answered by NewsBytes
Avengers: Endgame is releasing on April 26, 2019.
Who plays Captain Marvel?
Asked 2019-02-22 14:40:13 by Tejas Venkatesan
Answered by NewsBytes
Brie Larson plays Captain Marvel.
Will Captain Marvel be there in Avengers: Endgame?
Asked 2019-02-22 14:40:13 by Arnav Rangarajan
Answered by NewsBytes
Yes, Captain Marvel will be there in Avengers: Endgame and will help the heroes defeat Thanos.