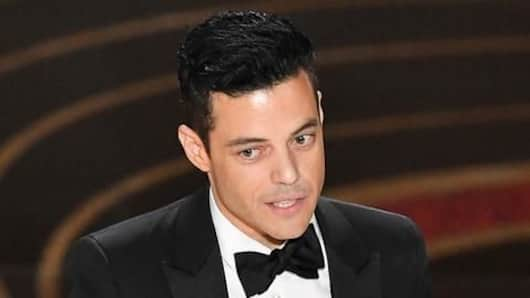 Oscar-winner Rami Malek will be the next James Bond villain
Rami Malek has firmly established that he is an actor to watch out for, after a phenomenal performance as Freddie Mercury in Bohemian Rhapsody.
Malek also won the Best Actor award at the Oscars for this role and has now set his sights on the next project.
He is going to play the James Bond villain in the upcoming movie.
Here's more.
Malek ready to star opposite Daniel Craig in Bond movie
Credits:
According to reports from the Collider, Malek has cleared his schedule for the shooting of Mr. Robot, the show where he plays an anti-establishment hacker with mental issues.
He is now in the final stages of negotiations to star in the upcoming James Bond movie, which will see Daniel Craig return as Bond for the last time.
Notably, Cary Fukunaga is helming the project.
Rest details scarce, new Bond villain may be blind
While details surrounding the new Bond villain are scarce, there is a possibility that he might be blind.
This is based off comments from Said Taghmaoui, the Moroccan actor, who was considered to portray the antagonist when Danny Boyle was supposed to be the director of the project.
It will be interesting to see someone of Malek's talent play a blind villain.
Love Entertainment news?
Stay updated with the latest happenings.
Yes, notify Me
Malek joins a host of familiar faces in upcoming movie
Credits:
Once Malek officially joins the cast, he will be a new addition to the host of familiar characters returning to the film.
These include Naomie Harris as Eve Moneypenny, Ralph Fiennes as M, Ben Whishaw as Q and Lea Seydoux as Dr. Madeleine Swann.
Lupita Nyong'o of Black Panther fame and Billy Magnussen of Game Night are being potentially eyed as new cast members.
Bumpy project seems to finally be on its way
The upcoming Bond movie has faced several roadblocks, with Boyle leaving the project over creative differences.
The script is being overhauled by Scott Z Burns, as we reported.
All this caused the project to be pushed back to an April 8, 2020 release date, wherein it was initially scheduled for a fall 2019 release.
Hopefully, it will move steadily ahead following the major casting.
When is the new James Bond movie releasing?
Asked 2019-03-02 00:02:08 by Navya Lobo
Answered by NewsBytes
James Bond's movie is releasing on April 8, 2020.
How many films have been there in the James Bond franchise before?
Asked 2019-03-02 00:02:08 by Trishla Gavde
Answered by NewsBytes
Considering the 2020 film is going to be 25th film in the franchise, there have been 24 James Bond movies before this.
How old is Daniel Craig?
Asked 2019-03-02 00:02:08 by Harini Mukopadhyay
Answered by NewsBytes
Daniel Craig is 50 years old.
What movies has Daniel Craig played James Bond in?
Asked 2019-03-02 00:02:08 by Pari Sengupta
Answered by NewsBytes
Craig has played Bond in Casino Royale, Quantum of Solace, Skyfall and Spectre.