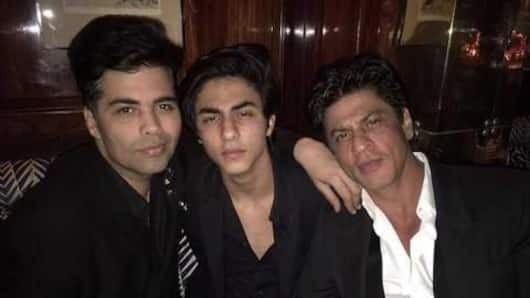 Karan Johar to launch SRK's son Aryan Khan with 'Takht'?
Filmmaker Karan Johar, whom Kangana Ranaut famously calls the 'flagbearer of nepotism', has launched several star kids in Bollywood including Alia Bhatt, Janhvi Kapoor, Varun Dhawan, etc.
And it seems, he is all set to take Shah Rukh Khan's kids under his wings now.
According to media reports, KJo is planning to launch SRK's elder son Aryan in his upcoming directorial, Takht.
Here's more.
Aryan to work behind the camera in 'Takht'
According to a report published in Pinkvilla, Aryan will be assisting KJo in Takht.
Yes! Aryan will be making his Bollywood debut as an assistant director.
Interestingly, SRK himself wants his son to work behind the cameras before facing them.
In fact, Aryan is also inclined towards filmmaking, and is studying the same in a leading foreign university.
It will be an honor for Aryan, SRK had said
Although no official announcement has been made about Aryan being the assistant director for Takht, KJo had once said that no one apart from him would launch SRK's kids.
SRK too reciprocated and had mentioned that it will be an honor for his son Aryan to work with such an accomplished director.
Well, this news would certainly make Aryan's huge fan base excited.
Love Entertainment news?
Stay updated with the latest happenings.
Yes, notify me
However, SRK wants his son to complete his studies
To recall, SRK has always maintained that his kids are free to pick any career path of their choice.
However, he pointed out that they first need to complete their studies.
"If Aryan wants to be a filmmaker, he needs to study for another five-six years and probably be an assistant to Karan after he finishes his film-making course," the actor had said once.
'Takht' is a period drama set in the Mughal era
Talking about Takht, the movie will be a period drama based in the Mughal era.
It will star Anil Kapoor as Shah Jahan, Kareena Kapoor Khan as Shah Jahan's daughter Jahanara Begum, Ranveer Singh as Dara Shikoh, Vicky Kaushal as Aurangzeb, Alia Bhatt as Dara Shikoh's wife Begum Nadira Banu, Bhumi Pednekar as Aurangzeb's wife Dilras Banu Begum and Janhvi Kapoor as a slave.
Is Karan Johar launching Aryan Khan?
Asked 2019-04-02 16:50:54 by Sanvi Pillai
Answered by NewsBytes
Yes. The media reports suggest that Karan Johar will be launching Shah Rukh Khan's eldest son Aryan Khan with Takht. However, he will be the assistant director of the movie.
What will be Aryan Khan's role in Takht?
Asked 2019-04-02 16:50:54 by Amit Rathore
Answered by NewsBytes
According to the media reports, Aryan Khan will be the assistant director for Karan Johar's upcoming directorial Takht.
What is the story of Takht?
Asked 2019-04-02 16:50:54 by Vibhore Tata
Answered by NewsBytes
Takht is the story about two warring brothers from the Mughal era - Dara Shikoh and Aurangzeb who fought for the throne with Aurangzeb eventually killing Dara Shikoh to become the emperor.
What is that cast of Takht?
Asked 2019-04-02 16:50:54 by Navya Rathore
Answered by NewsBytes
Helmed by Karan Johar, Takht will star Kareena Kapoor Khan, Ranveer Singh, Anil Kapoor, Vicky Kaushal, Alia Bhatt, Bhumi Pednekar and Janvhi Kapoor in key roles.