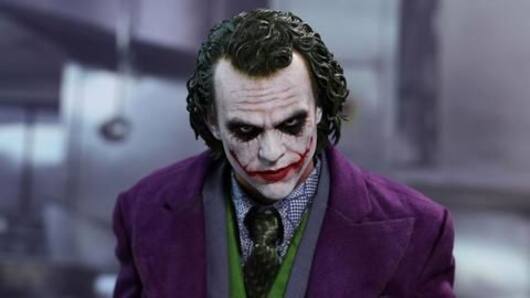 #ComicBytes: Ranking five best renditions of the legendary character, Joker
The character of Joker began as a colorful clown who devised clever schemes only to be stopped by Batman.
Over the years, he underwent a plethora of transformations and reinventions.
After more than half a century, the character now stands as an embodiment of chaos and psychopathic tendencies.
Let's take a look at the best renditions of Joker and what makes them so great.
Over-the-top Madness: The one with severely underutilized potential
Jared Leto is a fine actor and his take on Joker in Suicide Squad showed the character in a different light- a calculative, turbulent terrorist.
With his tattoos, crazy eyes, and creepy teeth, he seemed like a refreshing change when the trailers aired.
But the movie turned out horrible and his role was smaller than even Captain Boomerang!
What a waste of potential!
Maniacal Madness: The one made great by the performing actor
Batman (1989)'s Joker was great because it revamped the character's campy, playful image.
The film was undoubtedly great but Jack Nicholson is the real reason why this Joker is a fan-favorite even today.
It was the first-ever film to show Joker's origin and Nicholson just brought that maniacal energy (almost like The Shining) that genuinely terrified viewers.
The guy simply stole the show.
Love Entertainment news?
Stay updated with the latest happenings.
Yes, notify me
Chaotic Madness: The classic, unhinged madman, who'll be remembered forever
No one could've imagined Heath Ledger playing a psychotic villain but boy did he surprise us all!
Joker from The Dark Knight was a dark, vile character and yet, people were inspired by him, quoting him day-in and day-out. They loved him, adored him!
One of the rare villains with a distinct philosophical aspect beyond all the chaos.
Truly a performance of the century.
Gleeful Madness: The one closest to the comic books
Mark Hamill's Joker was the quintessential comic book portrayal of the character.
People who have grown up watching Batman: The Animated Series will recognize him by that trademark contagious laughter.
Hamill's Joker was theatrical, gleeful and his craziness ranged from rocket-powered Christmas trees to attempted murder!
This definitive portrayal went on to appear in a number of animated series and video games.
Deranged Madness: Craziest of the lot who deserves more recognition
Gotham is not path-breaking in any way but Cameron Monaghan's performance definitely is.
He enters the scene as an innocent-looking child and in a few episodes, blows everyone else out of the water.
He is chaotic one moment, calm the other. He gets his face beaten off (yes!), murders hundreds, dies, lives again, inspires his own cult of deranged criminals, and looks damn creepy!
Who is Mark Hamill?
Asked 2019-04-05 17:22:59 by Aaryan Sen
Answered by NewsBytes
Mark Hamill is an American actor, voice actor, and writer best known for playing Luke Skywalker in the Star Wars films and voicing Joker in various media.
When did Suicide Squad release?
Asked 2019-04-05 17:22:59 by Dhruv Mukopadhyay
Answered by NewsBytes
The film released in August 2016 amid great expectations. It received negative reviews.
Who plays Joker in Gotham?
Asked 2019-04-05 17:22:59 by Rishika Sengupta
Answered by NewsBytes
Although not explicitly called the Joker, Cameron Monaghan portrays multiple versions of the character in Gotham.
When is the upcoming Joker movie releasing?
Asked 2019-04-05 17:22:59 by Vishal Yadav
Answered by NewsBytes
The film releases worldwide on October 4, 2019.