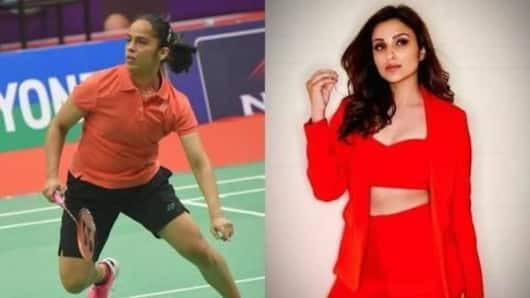 Here's how Parineeti Chopra is preparing for Saina Nehwal biopic
After basking in the success of her last release Kesari, Parineeti Chopra is all geared up for her next movie - a biopic on badminton star Saina Nehwal.
She will be seen essaying the role of Saina onscreen.
The Ishaqzaade actress has begun preparing for it. She also posted a photo of hers sweating it out on the court.
Take a look!
Parineeti practises badminton from 6 am to 8 am
Media reports suggested that Parineeti is undergoing rigorous training in badminton and is playing the sport every alternate day. In fact, she practises from 6 am to 8 am and plans to go to the sets only after she excels in the sport.
Parineeti shares photo, says it's her 'post training bliss'
Recently, Parineeti shared a glimpse of her training session in an Instagram post, where she was seen sweating hard on a badminton court.
The actress was seen sitting on the ground of the court, with her racket and shuttlecocks by her side.
Sporting a no make-up look, the 30-year-old was in a white t-shirt and blue lowers.
"Post-training bliss! #Saina," she captioned it.
Love Entertainment news?
Stay updated with the latest happenings.
Yes, notify Me
Parineeti seems quite determined to nail the sport
'Excited to get into the skin of a world champion'
Meanwhile, Parineeti is excited to do a sports biopic and calls it an absolutely perfect project for her.
"I'm actually quite excited to get into the skin of a world champion because playing a fictional character is not as exciting as playing a real character. Here, I've somebody who has extensive documentation on exactly how she plays, who she played every match," she added.
Parineeti has actually replaced Shraddha Kapoor in biopic
Interestingly, Parineeti was not the first choice for this biopic.
Earlier, Shraddha Kapoor was roped in to play the lead. However, she was soon replaced by Parineeti, as she couldn't match the pace of her character.
"Even after being trained for more than a year, this actress failed to get the nuances of the character right," a source was quoted saying.
The film is slated for early 2020 release: Producer
After Parineeti was inducted in the film, its producer Bhushan Kumar said, "We are glad Parineeti has come on board for the film. Saina has made every Indian proud and we can't wait to take her story to the world in the year of the Olympics."
He further said that he wishes to see the film getting released early next year.
How is Parineeti Chopra preparing for Saina Nehwal's biopic?
Asked 2019-04-06 16:05:13 by Anika Singh
Answered by NewsBytes
Parineeti Chopra is undergoing rigorous training for Saina Nehwal's biopic. She is practicing the sport and wants to excel it before hitting the sets.
Why did Shraddha Kapoor leave Saina Nehwal biopic?
Asked 2019-04-06 16:05:13 by Pari Dutta
Answered by NewsBytes
Shraddha Kapoor left Saina Nehwal biopic owing to her busy schedule. However, the media reports also suggested that Shraddha was finding it hard to fit in the character which made the makers reconsider her.
When will Saina Nehwal biopic release?
Asked 2019-04-06 16:05:13 by Navya Kapur
Answered by NewsBytes
According to the media reports, the makers are keen to release Saina Nehwal biopic by early 2020.
Which was Parineeti Chopra's last movie?
Asked 2019-04-06 16:05:13 by Cheshta Jayaraman
Answered by NewsBytes
Parineeti Chopra was last seen in Akshay Kumar starrer Kesari which released in March 2019.