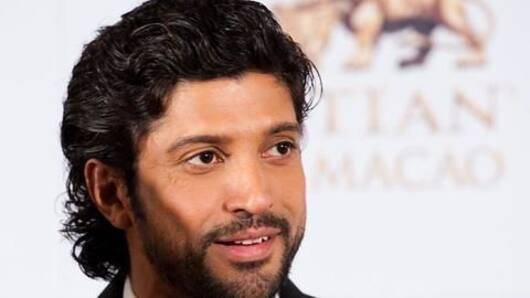 Week after elections, Farhan asks Bhopal to vote against Pragya
If there was a competition to judge the stupidity of Bollywood stars, Farhan Akhtar would clearly make it to top five.
The man of many talents, who clearly doesn't read the news, got trolled on Sunday after he asked Bhopal to vote against BJP candidate Pragya Thakur.
Farhan didn't care to check that Bhopal had already voted on May 12.
Here's what happened.
Farhan referred to Bhopal gas tragedy to make his point
Farhan took to Twitter to ask people to reject Pragya.
He tweeted, "Dear electorate of Bhopal, it's time for you to save your city from another full-of-gas tragedy. #SayNoToPragya #SayNoToGodse #RememberTheMahatma #ChooseLoveNotHate."
Farhan was referring to the 1984 Bhopal Gas tragedy in which thousands of people lost their lives after poisonous gas leaked from Union Carbide India Limited (UCIL) pesticide plant.
Love Entertainment news?
Stay updated with the latest happenings.
Yes, notify Me
BJP fielded a terror-accused against a Congress stalwart
It should be recalled that Pragya's candidature from Bhopal raised many questions.
The saffron-wearing leader is one of the accused in the 2008 Malegaon blast case. She was arrested in 2008 and was released on bail in 2017 on health grounds.
After BJP fielded her against Congress' Digvijaya Singh for the Madhya Pradesh capital, Pragya made many controversial statements.
Pragya's statements stoked controversies in poll season
Pragya started her election campaign by saying former Mumbai ATS chief Hemant Karkare died because of her "curse". She then said she had a hand in Babri Masjid demolition and was proud of it.
Recently, Pragya called Nathuram Godse, the assassin of Mahatma Gandhi, a true patriot.
Her comments invited ire for BJP and many have been batting for her defeat.
Farhan joined 'I hate Pragya' bandwagon without checking facts
With Pragya's candidature, BJP walked a double-edged sword. The party claimed she was fielded to bust theories on Hindu terrorism, but her statements have only spelled trouble.
While none of her statements are justifiable, Farhan's tweet is also problematic.
Farhan has shown that he doesn't care about what's happening around. He is only concerned with voicing an opinion, even if it is factually wrong.
Farhan was rightly berated by Twitter users
Twitter users were quick to reprimand Farhan.
While @manakgupta wrote: Farhan, Bhopal voted last Sunday. Shows how much this actually means to you.
"Farhan Akhtar is the epitome of the millions Mah Lyf Mah Roolz type of youngsters who don't know jackshiz about politics on ground but still have to oppose any political party just because it is the latest fashion, (sic)" tweeted @TrulyMonica.
Before commenting on important matters, stars should brush their 'knowledge'
Farhan has shown why it is becoming increasingly difficult to expect sanity from Bollywood stars. All they want to do is sound cool, even if it means remaining ignorant.
A simple Google check would have told Farhan the truth about Bhopal's polling dates.
But why bother when you can use multiple hashtags and a terrible tragedy to show how 'intelligent' you are?
When were Lok Sabha polls held in Bhopal?
Asked 2019-05-19 14:33:31 by Arjun Singhal
Answered by NewsBytes
Lok Sabha polls were held in Bhopal on May 12.
Why was Farhan Akhtar trolled?
Asked 2019-05-19 14:33:31 by Rajesh Patil
Answered by NewsBytes
Farhan Akhtar was trolled after he asked Bhopal's citizens to vote against Pragya Singh Thakur on May 19, a week after elections concluded in the constituency.
What are the controversial statements which Pragya made during campaigning?
Asked 2019-05-19 14:33:31 by Surabhi Kapur
Answered by NewsBytes
Sadhvi Pragya stoked controversies through her statements. She claimed Hemant Karkare died because of her curse, said she was proud of Babri Masjid demolition and called Nathuram Godse a true patriot.
Why did BJP give ticket to Pragya Thakur?
Asked 2019-05-19 14:33:31 by Ishan Sen
Answered by NewsBytes
BJP said Pragya was given a ticket to bust Congress' fake theories of Hindu terrorism. The party claims Hindus can't be terrorists.