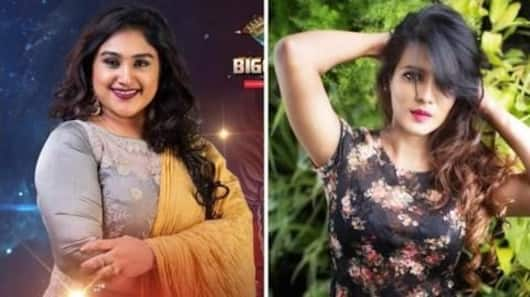 #BiggBossTamil3: Cops grill Vanitha in kidnapping-case, daughter bails her out
Bigg Boss Tamil-3 contestant Vanitha Vijayakumar, who was accused of kidnapping her daughter, can breathe now.
To recall, her ex-husband had alleged that she had abducted their daughter, and kept her under house-arrest.
But now, the child has spoken out in Vanitha's support, saying she's happy with her mother.
There's however no relief in sight for Meera Mithun, another contestant who faces fraud charges.
Telangana Police visited Vanitha inside 'BB' house, brought daughter in
According to media reports, Telangana Police, after taking nod from the Nazrethpet Police, Chennai, grilled Vanitha inside the Bigg Boss house to record her statement.
Her daughter was also brought in for questioning, and apparently she cleared the air about the alleged kidnapping.
Reportedly, the child told the cops that she was willing to stay with her mother and is happy with her.
Vanitha's daughter has claimed her father's friends misbehaved with her
Furthermore, Vanitha's daughter alleged that friends of her father misbehaved with her in an inebriated state, the actress' lawyer claimed in a media interview.
She told cops that she had no protection at her father's house, and has refused to meet him, further mentioning that his women friends used to lock her in the bathroom and indulged in unmentionable acts with him.
Love Entertainment news?
Stay updated with the latest happenings.
Yes, notify me
Post divorce from Vanitha, Rajan got their daughter's custody
As mentioned before, the kidnapping case was filed by Vanitha's ex-husband Anand Rajan, whom she married in 2007.
This was Vanitha's second marriage. The couple got divorced in 2012 following which their daughter's custody was granted to Rajan while Vanitha had visitation rights.
Notably, Rajan had also filed cases against Vanitha in 2017 and this February for not allowing him to meet their daughter.
Meanwhile, police to visit Meera inside the 'Bigg Boss' house
On the other hand, there are reports that the police might visit Meera inside the BB house to arrest her in a money laundering case.
Reportedly, she has been accused of cheating a designer of Rs. 50,000.
The victim claimed that Meera had borrowed the money using her Miss South India title, which she had won in 2016, and never returned the amount.
Who is hosting Bigg Boss Tamil 3?
Asked 2019-07-05 13:56:03 by Hemant Verma
Answered by NewsBytes
Bigg Boss Tamil 3 is being hosted by veteran actor Kamal Haasan.
Why will Vanitha Vijayakumar be arrested?
Asked 2019-07-05 13:56:03 by Hansika Sarin
Answered by NewsBytes
Vanitha Vijayakumar has been accused of allegedly kidnapping her daughter. The complaint was filed by her ex-husband Anand Rajan following which there were reports Vanitha might be arrested.
Why will Meera Mithun be arrested?
Asked 2019-07-05 13:56:03 by Aaryan Mistry
Answered by NewsBytes
Meera Mithun has been accused of cheating a designer of Rs. 50,000. It was reported that Meera borrowed the money using her Miss South India title and never returned the money.
Will Vanitha Vijayakumar be arrested inside Bigg Boss house?
Asked 2019-07-05 13:56:03 by Harini Sharma
Answered by NewsBytes
Although there are speculations that Vanitha Vijayakumar will be arrested inside BB house in the kidnapping case of her daughter, the recent report states that the police is visiting her on the show only to record her statement.