Sophie, Joe find "happiness" in "Paradise" on their Maldives honeymoon
Entertainment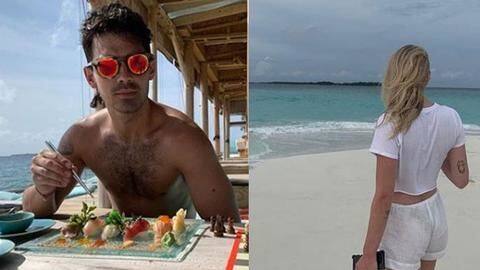 The love life of newly-married Sophie Turner and Joe Jonas came to a full circle after they went to Maldives on their honeymoon recently.
That's because the two had visited the island nation last February after their engagement too.
Yesterday, the couple shared a few breathtaking pictures from their trip, and just like Sophie, we will scream, "Paradise such a magical place," as well.
Stay
The couple was put up at the luxurious Soneva Fushi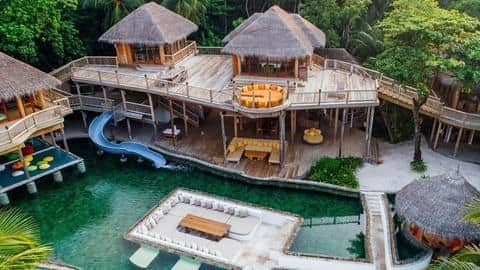 The couple, who were put up at the luxurious resort, Soneva Fushi beachfront villas on Kunfunadhoo Island, shared the pictures on their respective Instagram pages.
One of the videos showed Joe exulting while enjoying a waterslide ride at the Out Of The Blue restaurant, a fine dining space opened by the resort in May last year.
He warmly captioned it as, "I found happiness."
Sophie
Actress smartly shows off both her engagement ring, wedding band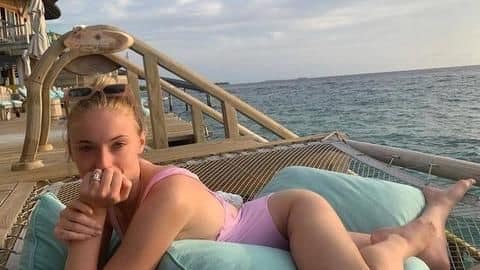 Joe's caption might be referring to Jonas Brothers' new documentary Chasing Happiness and new album Happiness Begins.
The singer also shared two photos of Sophie. In one she is seen wearing a pink bikini, relaxing on a hammock, lounged beside the water.
Her head rests on her folded hand, which cleverly shows off both her engagement ring and her new wedding band.
Instagram Post
Joe has "found happiness" during his Maldives honeymoon
Vacation
While Joe cycles through the island, Sophie looks at sea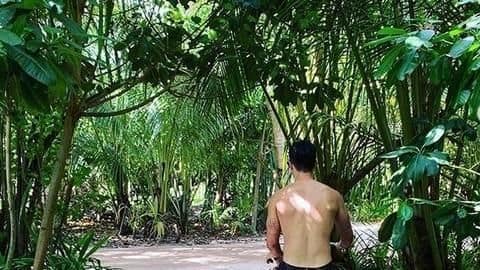 In another photo, the 23-year-old actress, dressed in white shorts and T-shirt, mobile in one hand, and probably a drink in the other, is looking at the sea, back facing the camera.
Sophie's snaps show Joe cycling through a dense foliage, another has him enjoying a plate of sushi, while the third one shows him relaxing on a hammock, looking at the setting sun.
Instagram Post
Paradise, such a magical place, Sophie captions her vacation
Comment
"The view, the man, the sushi. You have it all"
Their photos have unsurprisingly garnered a lot of attention.
While Joe's triple treat got over 13L likes, Sophie's posted images have got a total of over 16L likes, till now.
Even director Jesse La Flair wrote, "The view, the man, the sushi. Damn girl! You have it all," in his comments to photos uploaded by Sophie, and we could not agree more.
Lucky!
Sophie-Joe married twice: Once in Las Vegas, another in France
Decision
For her French chateau wedding, Sophie opted for Louis Vuitton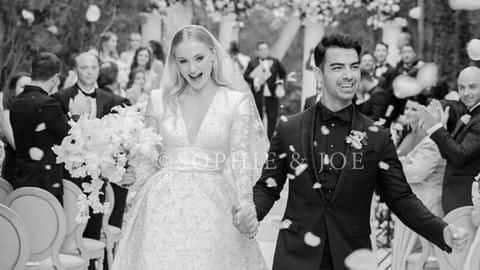 For the French wedding, Sophie wore a Louis Vuitton silk Gazar gown that had an optical white leather satin belt, and a 14mts-long flower-embroidered tulle.
News has it that it took some 75 hours of digital design comprising 65,000 stitches to create the floral pattern of the tulle.
Over 10 embroiderers worked for the gown, assembling of which took them some 350 hours.
Party
Priyanka, Maisie Williams, others had attended Sophie-Joe's pre-wedding bash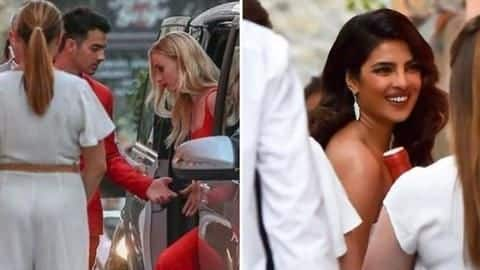 Before their wedding, the couple threw a white themed party that had their close friends and family in attendance.
Sophie's sisters-in-law, Danielle and Priyanka Chopra were spotted, as were the Jonas brothers, Nick and Kevin.
Her Game of Thrones co-star Maisie Williams, who essayed the role of Arya Stark and was one of the maids of honor at the France wedding, was seen too.