Alia Bhatt, DiCaprio share wrong/fake images of Amazon rainforest fires
Entertainment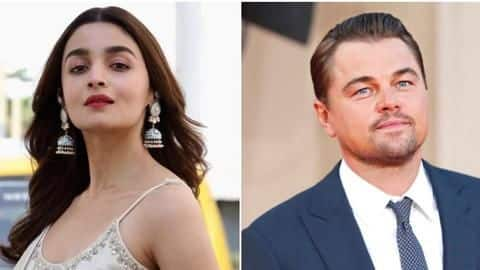 The Amazon rainforest burned in silence for weeks, making headlines only after forestfires consumed acres of land.
It gained some attention when environment activists addressed the matter on social media. Several leaders and celebrities followed suit and hashtags like #PrayforAmazonas started trending globally.
However, as real and devastating as the fires are, the pictures you may have seen circulating online may be fake/wrong.
Details
Alia Bhatt shared Amazon fire photos from 1989, 2014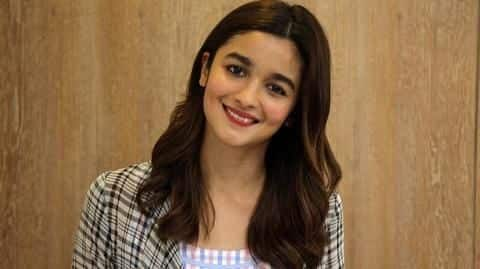 On Thursday, Alia retweeted four images, purportedly of the Amazon fires.
However, the image on the top-left was taken in November 2014 in the Amazon basin in Ze Doca by Mario Tama.
The top-right image is of the 1989 Amazon rainforest fires taken by Sipa Press.
The bottom-right image is an Alamy stock photo, clicked by photojournalist Loren McIntyre, who died in 2003.
Check out Alia's tweet here
Information
One out of four photos Alia shared from August 2019
The only image Alia shared from the August 2019 fires is the one on the bottom left, which was released by the NASA Earth Observatory, along with other satellite imaging from the fires. However, she isn't the only one to have shared misleading photos.
Other celebrities
Leonardo DiCaprio, Cristiano Ronaldo, Madonna also shared misleading photos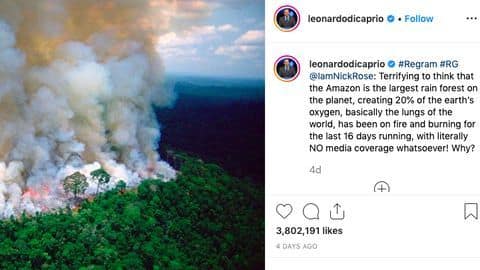 Information
False images fooled the President of Chile too
Separately, President of Chile Sebastián Piñera shared an image, which dates back to a September 2013 Amazon rainforest fire near Novo Progresso, Para State. In the tweet, Piñera mentioned he has spoken to Brazilian President Jail Bolsonaro and Bolivian President Evo Morales Ayma about the fires.
Fires
Official data reports 78,383 fires in Amazon this year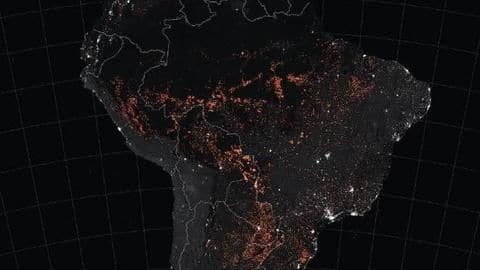 While many other celebrities, journalists, activists, and politicians shared misleading photos of the Amazon fires, the fact remains that the rainforest has been burning alarmingly, billowing smoke thousands of miles away, reaching the city of Sao Paolo.
Although the rainforest doesn't catch fire so often as it remains damp, official data reports there have been 78,383 forest fires this year, the highest since 2013.
Information
1,663 new fires ignited in Amazon on Thursday, Friday alone
According to the National Institute for Space Research, out of total forest fires recorded in Brazil this year, over half were in the Amazon- home to 30 million people, including tribes, and millions of animal and plant species. 1,663 were ignited between Thursday and Friday.
Reason
Activists blame Bolsonaro for fires; Bolsonaro blames NGOs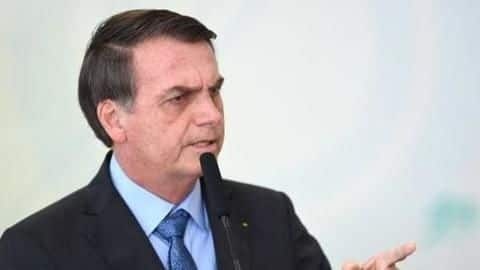 According to experts, the reason behind the rising number in forest fires is the increased deforestation in the region during the months-long drought.
Environmental activists blame Bolsonaro's policies for the fires, while the President accused non-government organizations of setting the fires.
As the authorities continue to point fingers at each other, the Amazon, which produces 20% of the world's oxygen, is facing irreparable damage.