Entertainment
21 Mar 2017
Asia's first HP Virtual Reality Lounge is now in Noida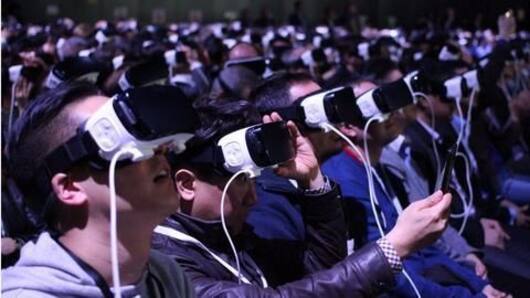 Movie goers in India can now opt for it - to have a more immersive and interactive experience than the regular affair.
PVR Cinemas and HP India launched their first VR (Virtual Reality) lounge in Asia at PVR ECX, Mall of India, Noida.
PVR plans to launch 9 more virtual reality lounges in other metro cities.
In context
Moviegoers have a new reason to rejoice
Details
What's in the offing for the audience?
The audiences will have a huge variety of curated content of various genres that they can choose from to be viewed in their VR pods that makes use of the latest state-of-the-art Omen technology by HP.
The firm makes a tall claim saying that the experience of the audiences will blur the line of reality and virtual for them.
21 Mar 2017
Pocket pinch for the moviegoers and future plans
For the first 15 days the VR experience is going to be made available to the PVR customers for absolutely free.
After this, those who want to avail the lounge facility will be charged Rs. 100 per head.
During the initial phase, PVR has lined up 8 movies for the VR lounge and is aiming to have at the most 12-14 seater VR pods.
Love Entertainment news?
Stay updated with the latest happenings.
Notify Me
VR character
India gets its first real-time VR character
Actress Ritu Varma is going to be India's first real-time VR character in Rajamouli's The Sword of Bahubali, which is supposed to make its debut as a prelude to the release of Bahubali: The Conclusion.
The actress went through a rigorous procedure which involved taking a trip to the US to give facial expression sessions before a special VR-camera to get things right.
Introduction
What exactly is Virtual Reality all about?
The bookish-explanation is that it's "a three-dimensional, computer generated environment", but it can be better explained as platform that gives "near reality" viewing experience.
What it does is it runs simulations which have you immersed into the narrative with the help of a VR set, setting you up for a fully fleshed out fun laden adventure, without even having to move from your couch.
Mumbai
India's first Public Virtual Reality centre gets Mumbai address
Enlighten Film Society based in Mumbai kick-started India's first open-to-public Virtual Reality (VR) centre.
A four film, three minutes each VR series called 'Unnamed Guides' comprising 70 tourist spots of historical and mythological importance complete with a voice-over was prepared for viewing by the audience.
The centre aims to showcase both locally sourced as well as international content to its audience every weekend.