Entertainment
07 Apr 2017
Dangal: Pak censor board want national flag, anthem scenes cut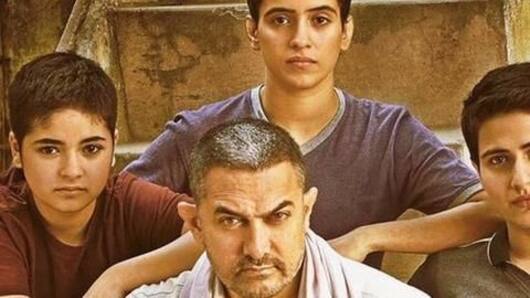 Two months after Pakistani cinema owners lifted a self-imposed ban on screening of Bollywood movies, they sought that the blockbuster 'Dangal' be screened in their movies.
However, they were in for a surprise when Aamir Khan, actor and producer, refused.
According to Hindustan Times, Khan's refusal came due to the Pakistani Censor Board's order to cut two scenes featuring the Indian flag and anthem.
In context
'Dangal' blocked in Pak, Aamir Khan won't budge
"Surprising" demands from the Pakistan censor board
According to sources, "When ('Dangal') went to the Pakistan censor board, they were fine with it except two scenes - one in which the Indian flag is shown and another in which the Indian anthem is played. (They) wanted the scenes to be edited out."
Response
Khan refuses to cut scenes despite losses
Khan, however, rejected the demands, as the sports-based biopic wasn't "jingoistic in nature", and "with no direct or indirect reference to Pakistan".
"The film only highlights India's nationalistic sentiment, so what is the reason to chop off those scenes?" asked the source.
Despite an estimated loss of Rs. 10-12cr, Khan wasn't willing to edit the scenes as asked by the Pakistani censor board.
Love Entertainment news?
Stay updated with the latest happenings.
Notify Me
What next?
Khan's refusal to release the film might lead to piracy, which could cause losses of crores of rupees for the producers. However, Mobashir Hasan, head of Pakistan's Central Board of Film Censors, said the local distributor, Geo Films, could still choose to release the movie.
Controversy
Aamir Khan's tryst with 'anti-nationalism'
Ironically, when the movie starring Khan, Fatima Sana Shaikh and Zaira Wasim was released, a section opposed the film by the "anti-national" star, who had in 2015 created a controversy over his intolerance comments.
#BoycottDangal trended on Twitter, with many abusing him for 'PK' which "insulted" Hindu gods.
A sedition case was also filed against the star in August 2016 over his comments.
Not the first time for the Pakistani censor board either
This isn't the first time Pakistani censors had issues with Bollywood movies since the ban was lifted. Shah Rukh Khan's 'Raees' was refused permission as it "portrayed Muslims in a negative light"; Akshay Kumar's 'Jolly LLB 2' had to undergo massive cuts before releasing.
09 Apr 2017
Maharashtra Govt. congratulates Aamir Khan for Dangal decision
The Maharashtra Government passed a resolution congratulating Aamir Khan for not releasing his movie Dangal in Pakistan.
Dhananjay Munde, the Leader of the Opposition, had moved the resolution.
The Pakistani Censor Board had asked for omission of scenes featuring the Indian flag and the Indian national anthem for release in Pakistan; Aamir Khan, who is also the producer of the film, had refused.