Entertainment
17 Apr 2017
Sonu Nigam creates controversy after protesting 'azaan'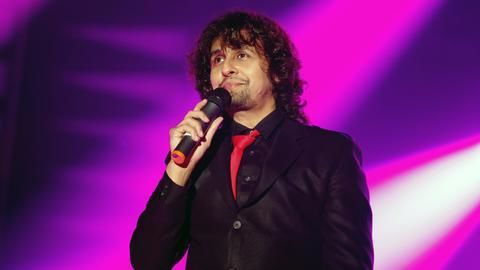 In context
Sonu Nigam in soup after protesting mosque's azaan
Defence
"Gundagardi hai bas", says Nigam
Terming the backlash directed at him "gundagardi", Nigam defended his remarks: "By the way Mohammed did not have electricity when he made Islam.. Why do I have to have this cacophony after Edison?"
He also pointed out he doesn't believe in even temples or gurudwaras "using electricity to wake up people who don't follow the religion".
19 Apr 2017
Sonu Nigam shaves head over Rs. 10 lakh fatwa
In response to a fatwa issued by a Kolkata-based cleric who offered Rs. 10 lakh to anyone who shaves Sonu Nigam's head, the singer shaved his own head on live television, to claim the reward.
Nigam had reacted to the clerics fatwa calling it "religious gundagardi."
He clarified that his comments about the azaan were socially motivated and not religious.
Love Entertainment news?
Stay updated with the latest happenings.
Notify Me
20 Apr 2017
Complaint against Sonu Nigam over tweet
A religious leader from Aurangabad has filed a complaint with the local police over Sonu Nigam's tweet about the use of loud speakers during prayers.
Amitesh Kumar, Commissioner of Police, Aurangabad said "We have received a written complaint against the singer. However, no offence has been registered so far."
Police said they are looking into the complaint before deciding upon a course of action.
03 May 2017
Sonu Nigam controversy:HC says azaan, not loudspeakers integral to Islam
The Punjab and Haryana High Court said despite of Azaan being an integral part of Islam, it need not necessarily be played on loudspeakers.
The court was hearing a plea filed against singer Sonu Nigam over tweets that he posted last month; the tweets were critical of azaan being played on loudspeakers.
Sonu Nigam's tweets placed him in the middle of a major controversy.