Entertainment
18 May 2017
Chris Cornell, Soundgarden, Audioslave front-man dies at 52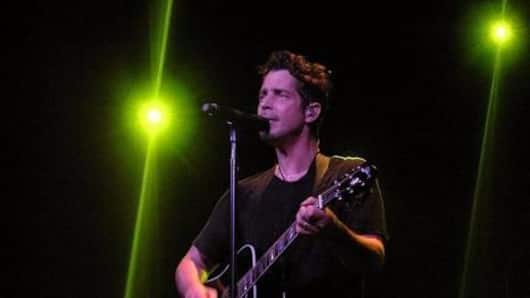 Grunge rocker and lead singer of rock bands, Soundgarden and Audioslave, Chris Cornell died Wednesday night aged 52.
The revelation was made by Cornell's representative Brian Bumbery in a statement to the media.
Cornell played a concert in Detroit hours before his death and it has been termed "shocking and unexpected".
Let us know more on the man, his life and his music.
In context
Chris Cornell: The man, his music, his life
About
Who is Chris Cornell?
Chris Cornell was born on July 20, 1964 in Seattle to Karen Cornell, an accountant and Ed Boyle, a pharmacist.
He founded Soundgarden in 1984 along with Kim Thayil and Hiro Yamamoto and later went on to become the lead vocalist and songwriter in Audioslave.
Along with Kurt Cobain and Eddie Vedder, he is known as one of the pioneers of grunge rock.
Accolades
Cornell received a Golden Globe Nomination for his song "The Keeper", which featured as part of the movie soundtrack of "Machine Gun Preacher". Rolling Stone ranked him the 9th best lead singer of all times. He was voted "Rock's Greatest Singer by Guitar World.
Love Entertainment news?
Stay updated with the latest happenings.
Notify Me
Musical style
Grunge all the way
Soundgarden was part of the Seattle grunge scene that would later go on to conquer popular culture in the 90s, along with Nirvana and Pearl Jam. Starting under the indie genre, their style went on to adopt heavy and angst-filled sounds characteristically associated with grunge.
Cornell was further known for his vocal belting techniques conveying heightened emotions and his almost four octave vocal range.
Discography
Well known songs
Soundgarden achieved breakthrough with its 1994 album "Superunknown". The band gained international recognition through Cornell's vocals in its singles, "Black Hole Sun". It further became well known for its offbeat album, "Down on the Upside", released right before the band broke up.
He is also known to have livened up Audioslave songs including "Be Yourself" and "Gasoline" and solo records including Songbook and Euphoria.
Hardships
Struggles with drugs and alcohol
Cornell has struggled with addiction but has been sober since 2003. In an interview with the Spin magazine he noted, "I actually like rehab a lot. It's like school; it's interesting. I'm learning that I can be teachable at age 38."
He has further spoken out on how alcoholism slowly took over his life, starting from being an occasional practice to a lifestyle.
Tributes
Reactions- shock and awe
Cornell's representative, Bumbery has termed the death "sudden and unexpected" and asked for privacy as the family looked into his cause of death.
Peer musicians including, Billy Idol and Mark Lanegan paid their tributes to him on Twitter.
"SO SO stunned to hear about Chris Cornell! Such a terrible and sad loss!..... RIP" tweeted Red Hot Chilli Peppers and Jane's Addiction guitarist, Dave Navarro.