Entertainment
26 May 2017
Study- Magic mushrooms are the safest recreational drug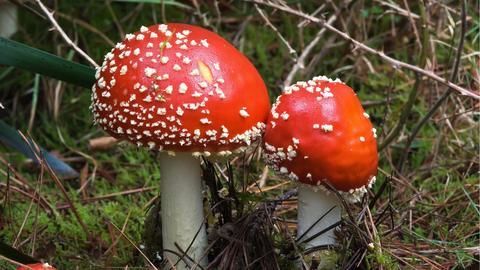 According to the 2017 Global Drug Survey, magic mushrooms are the world's safest recreational drugs.
The study found that only 0.2% of the 12,000 people who reported consuming psilocybin hallucinogenic mushrooms last year needed emergency medical treatment.
That's five times lesser than those resulting from MDMA, LSD and cocaine.
The survey included 150,000 participants across 50 countries.
In context
Magic mushrooms safest drug but still poses risks
Explained
What are magic mushrooms?
Magic mushrooms is a name given to fungi which contain a naturally existing psychedelic substance called psilocybin.
Over 180 species of mushrooms are known to grow in Mexico, South America, Malaysia, India and Indonesia.
There are extensive accounts of the consumption of magic mushrooms in ancient South American Aztec and Mayan cultures.
Magic mushrooms are currently illegal in most countries the world over.
Safer
Expert says 'death from toxicity after consuming magic unheard of'
"Magic mushrooms are one of the safest drugs in the world," said Global Drug Survey founder Adam Winstock.
"Death from toxicity is almost unheard of, poisoning with more dangerous fungi being a much greater risk in terms of serious harms," he added.
Winstock said the biggest risk arises from individuals picking and consuming the wrong mushrooms.
Love Entertainment news?
Stay updated with the latest happenings.
Notify Me
Explained
What happens when someone consumes magic mushrooms?
Once ingested, magic mushrooms cause hallucinations characterized by the distortion of colors, sounds and objects.
"Some people can feel more emotionally sensitive or more creative or feel enlightened," says drug advice website Frank.
"They can also speed up and slow down your sense of time and movement. They can make it feel like you're dreaming when you're awake."
Risks
Magic mushrooms consumption not without risk
Winstock said: "Combined use with alcohol and use within risky or unfamiliar settings increase the risks of harm- most commonly accidental injury, panic and short lived confusion, disorientation and fears of losing one's mind."
Panic attacks, flashbacks, stomach pains, disorientation and nausea are common side-effects from consuming mushrooms.
Winstock suggests users should plan their trip "with trusted company" and in a safe place.
Mushrooms have medical uses
Magic mushrooms have been known to have medical applications as they've been shown to help counter anxiety and depression in clinical trials. The drug is also not likely to be addictive.
Most dangerous
Methamphetamine most dangerous drug, synthetic cannabis follows
The survey found that methamphetamine was the most dangerous drug, with 5% of all users admitting that they wound up needing medical treatment.
Synthetic cannabis was the second most dangerous drug, with 3.2% users needing treatment.
In 2016, the rate of people requiring emergency medical treatment after alcohol consumption was 1.3%, for MDMA-1.2%, cocaine-1%, LSD-1%, and cannabis-0.6%.