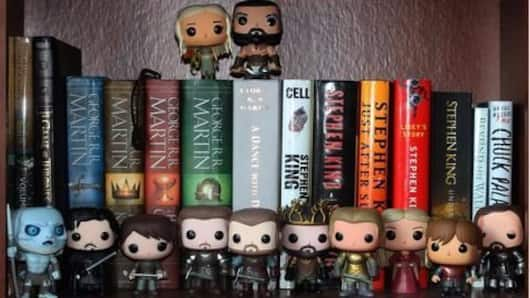 Game of Thrones is now course material for Harvard University
I am going to tell you something and before you ask me how I know this, let me tell you, "That's what I do. I drink, and I know things," unlike John Snow, who knows nothing.
All these years of GoT madness and whispering in Dothraki may now land you with a prestigious Harvard University degree.
Here's all you need to know.
GoT nerds lay siege on Harvard!
Yes, Harvard University is now going to offer a full-fledged history course in Game of Thrones to keep up with times and jazz things up a bit, while imparting solid education.
The course titled "The Real Game of Thrones: From Modern Myths to Medieval Models" is aimed at unearthing the real medieval events that form the foundation of this bloody saga.
That is called creative freedom and extending imagination
George R. R. Martin has generously borrowed from historical texts and incidents to create GoT and now this course will involve a careful study on how the same has been molded to suit the needs of storytelling.
The course emphasizes on "echoes and adapts, as well as distorts the history and culture of the 'medieval world' of Eurasia from c. 400 to 1500 CE."
Love Entertainment news?
Stay updated with the latest happenings.
Yes, notify Me
History is not that boring
A direct parallel of John Snow being stabbed by Olly, his protégé, can be drawn from Rome's Julius Caesar being stabbed by someone whom he trusted the most, Brutus and it didn't escape the notice of several diehard fans, who had tweeted,"Et Tu, Olly?"
Cersei's walk of shame is what happened to Jane Shore, the mistress of King Edward IV of England.
'Oh, that's like in Game of Thrones'
Professor Racha Kirakosian said that her students made her watch GoT, which led to this course.
She said to Time, "When I read medieval verse epics with my students, they'd say, 'Oh, that's like in Game of Thrones. No, if anything at all, it's the other way around. Isn't it partly our job [as professors] to use that interest and go deeper?"
Are you ready to learn?
The timing of this announcement couldn't have been more apt, as GoT fans are going to get their fresh course material when Season 7 premiers in this July on the 16th.
One more thing, in case you want to learn Dothraki, a six-week course is currently being offered at UC Berkeley, titled, "The Linguistics of Game of Thrones and the Art of Language Invention."