Entertainment
07 Jun 2017
From Taher Shah to Dhinchak Pooja: The stars of cringe-pop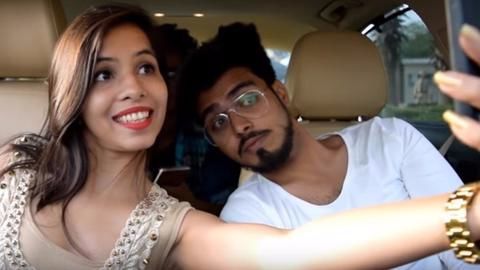 Music lovers might cringe at the thought, but 'cringe-pop' has emerged as the newest sensation. Sometime ago, Dhinchak Pooja took over our computer screens with 'Swag Wali Topi', clicking 'selfies'.
Two things are certain: that despite being ridiculous, they have raked in the bucks, and that India seems to have a certain edge over everyone else.
What factors are at play here?
In context
India's domination in cringe-pop
What is this new genre?
The internet has come up with the term cringe: 'artistic' creations so bad, they are good. Cringe pop is the sub-genre dealing with music. As Parshathy J Nath wrote in The Hindu, cringe pop includes music videos "so bad that you cannot stop watching them."
Stars
Pakistan's Taher Shah inspired many Indian legends
Though the West has produced a few successful stars (Rebecca Black, 'Friday'), Pakistan's Taher Shah emerged into the scene in 2013 with 'Eye to Eye', which has almost 4mn YouTube hits.
The singer-actor-model-lyricist-director-producer-businessman also inspired many Indians: there was Vennu Mallesh ('It's My Life'), Jacintha Morris ('Suzainne a Sinner'), and Bhim Niroula ('Sunday morning Love You'). Also, Baba Sehgal gave us 'Black Money'.
Love Entertainment news?
Stay updated with the latest happenings.
Notify Me
Then there's Dhinchak Pooja
In less than a month, Dhinchak Pooja went viral for her 'Selfie Maine Le Li Aaj'. Then the internet dug up her earlier creations, including 'Daaru' and 'Swag Wali Topi'. She has has earned about Rs. 3 lakh just from her last song on YouTube.
Factors
What's behind the success of cringe-pop, especially in India?
Cringe videos exploit the sadism in people, feels clinical psychologist Prerna Kohli: people, especially those with low self-esteem, derive pleasure from watching the humiliation of someone else.
Prof Shifman of Jerusalem's Hebrew University identified six common features: humor, simplicity, whimsical content, repetitiveness, flawed masculinity and a focus on ordinary people.
India has another advantage: with such a large population, hits are almost guaranteed.
The difficulty with Youtube in India
Becoming a YouTube sensation in India isn't easy: compared to $4 Cost Per Thousand (ad views) that an American gets, Indians get just $0.50-1. You can monetize videos only after you get a substantial following. Advertising doesn't generally come till there are about 1mn views.
Offline
Tie-ups with brands a lucrative option
There are significant options offline for such creators, mostly tie-ups with brands. Globally, 'brand-social media influencer' partnerships are worth $1bn.
Influential creators get paid to write about brands, attending events, or promoting them in any way.
However, a one-off success will not lead to many offers: creators have to ensure a steady stream of hits.
In online, Facebook might displace YouTube as the go-to platform
For online, YouTube has remained almost remained the sole option till now, but Facebook is upping its game. They have already launched a beta version of a content creators' payment scheme. Judging by Facebook's reach, creators might as well move to the social media platform.