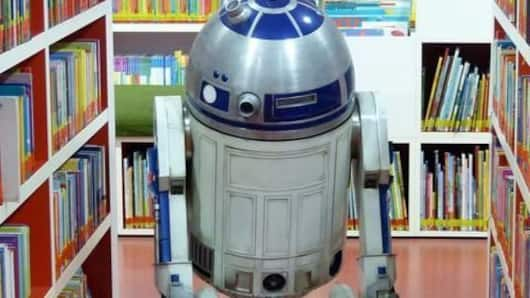 Someone just bought Star War's R2-D2 for over $2 million
Collecting memorabilia has always been a thing among fandom enthusiasts. It is no wonder that prices are quite steep for the real deal.
For alll you geeks, this may be a joyous news, but something you may find hard to digest. Someone out there bought an original (debatable) R2-D2 of Star Wars fame for over $2 million.
Here's all about the madness.
What was actually up for sale
What the auction had for sale was a complete "R2-D2" unit. There is, however, a caveat to this R2-D2.
This model is an amalgamation of bits and pieces taken from all the R2-D2 models that were used in the entire Star Wars trilogy.
It is not a mint model, as R2-D2 components were reused and new elements were added with every new movie.
A mix and match scenario
So the buyer got a 43 in. tall x 29.5 in. wide x 20 in. deep model made of aluminum, steel and fiberglass elements.
The dome is the aluminum one made for R2 actor Kenny Baker in A New Hope, 1977. It also features a handle to allow movement of the front eye of the R2-D2, as was done by Kenny from inside.
Love Entertainment news?
Stay updated with the latest happenings.
Yes, notify me
It's close enough, say auctioneers
Metal "greeblies" of this model were added during the first movie and used in all R2-D2 units throughout the trilogy. Left and right legs belong to an R2-D2 used in Empire Strikes Back. One has the Empire paint scheme, while the other sports that of the Jedi.
A "complete" existing R2-D2 belonging to the studio will be almost identical to this piece, said auctioneers.
No and yes
Although, I will side with the purists here and say this is not what I expect for my money, if someone is giving it to me for a kidney please let me know.
Also, Luke's lightsaber, used in A New Hope and Empire strikes back, i.e. the one which Anakin Skywalker used and later replaced went for $375,000. I can't sell both my kidneys.
We have a fellow geek in Modi
As an aside, remember the time when Narendra Modi ended his speech by saying "may the force be with you" in America, standing right beside Wolverine aka Hugh Jackman?
Well, he just outdid himself. After concluding his speech for the 68th Chartered Accountants Day celebrations, he exited the stage while Darth Vader's theme song The Imperial March was playing in the background.