Entertainment
17 Aug 2017
Actor Rajat Kapoor wants a moment of your time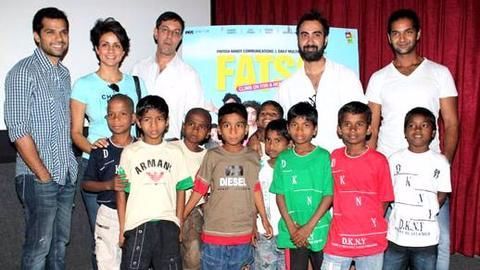 Before the term alternative or Indie cinema became popular, in 2003 a film named Raghu Romeo was released.
Many might not have come across this movie, but it had won National Film Award for Best Feature Film in Hindi. The man behind the lens, screenplay and also donning producer's hat was Rajat Kapoor.
That was 2003, it's 2017.
He's asking for your help.
In context
Rajat Kapoor's RK/R Kay needs your help
Rajat Kapoor
A man of many talents
Rajat Kapoor is a known face. His acting credits include Kapoor & Sons, Drishyam, Jaane Tu Ya Jaane Na, Monsoon Wedding and Dil Chahta Hai.
His directing chops were seen in Raghu Romeo, Mithya and the delightful Ankhon Dekhi.
He has won awards, accolades.
He, however, just wants to do what he does the best. Act or direct.
This is where you come in.
Movie
Why does he want your time?
Rajat Kapoor wants to make a movie but the producers are not interested. You would think alternative cinemas, by now, have many receivers in Bollywood. But sadly, that's not the case.
He has a script ready and he has a pitch to go along with it. But he's no longer knocking doors at the production houses. He is asking us to help him out.
Love Entertainment news?
Stay updated with the latest happenings.
Notify Me
Funding
Every little bit counts
He pens a letter on his crowd funding page, where he says, "I have been trying to raise money through conventional sources for the last three years, and that has not worked."
So if you can help, "whatever you think this deserves - whatever you feel you could part with. A thousand rupees, ten thousand, twenty thousand - every paisa will be helpful."
RK/R Kay
It will be a fine movie
So if you decide to help him out, who will be in his film? It will have Resul Pookutty, an Oscar recipient working on it. There will be Ranvir Shorey, one of the finest gems of Hindi cinema, acting alongside Rajat.
Also, there'll be Saurabh Shukla or Sanjay Mishra, which is yet to be decided.
The name of the movie is 'RK/R Kay'.
Film
Just hear him out, will you?
Rajat says, "One would think things become easier after a while…but nobody is really interested in a film that does not have a star."
I am asking as a fellow movie lover without having anything to do with Rajat Kapoor or his movie. I will be leaving the link to his crowd funding page on the next card.
Help him, if you can.
Every bit helps
Here's the link to Rajat Kapoor's crowd funding page for his new movie: http://bit.ly/2vFHrIs