Utkal Express derailment: Audio clips reportedly reveal negligence of staff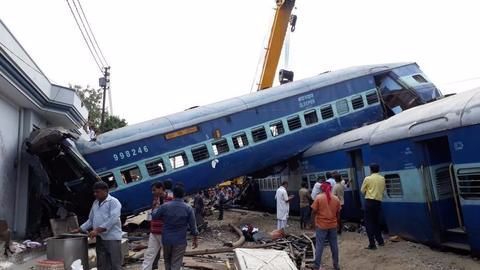 After the tragic Utkal Express derailment, two audio clips containing purported conversations between railway employees have gone viral.
However, the veracity of both is uncertain.
One among them seems to contain a conversation between a railway employee and a gateman discussing the developments. The other suggests a conversation among maintenance staff at Khatauli, where the accident happened.
In context
Utkal Express derailment: Unverified audio clips implicate employees
Audio 1
What did the gateman say about the mishap?
In one, a railway employee is heard questioning a gateman, who accuses staff of working irresponsibly. "The JE works for 30 minutes and leaves. Key-man just goes till the gate and comes back."
About the mishap, he says the JE started welding work despite being denied block. A piece of track was yet to be welded.
Four trains had passed before the track cracked.
Audio 2
Permission for block had been denied
The other is a conversation between employees discussing a block. One informs a 'Sir' that they need a 20-minute block.
"They are talking of some glue joint... I am saying there is a group of trains, how is it possible?" he says.
They say the train has already passed Cantt station.
Then block is denied. "There is no time," a man says.
Love India news?
Stay updated with the latest happenings.
Notify Me
Action
Who's at fault for the Utkal tragedy?
All evidence points to railway staff's negligence. The driver was unaware of the "unofficial" maintenance.
The railways has suspended four officials, transferred one, and sent three others on leave.
Sabotage has been ruled out for now. Meanwhile, a high-level probe is underway.
The number of train accidents in India (586 in five years) is alarming. Precautions must be taken rather than acting afterwards.