Imported Chinese shoes received in tricolor boxes, Indians enraged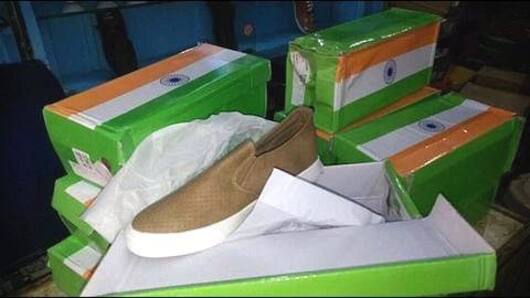 Amid rising Sino-Indian tensions due to the Doklam stand-off, the Chinese have constantly tried to humiliate India with racial slurs, accusations, and anti-India videos.
But now they have allegedly insulted India by exporting shoes packed in tricolor boxes.
Indians are enraged after shoe storekeepers in Uttarakhand's Almora received shoes from China in boxes bearing the Indian flag.
Can the Chinese stoop any lower?
In context
Tricolor shoeboxes: China's latest attempt to offend India
Shopkeepers
Who could be behind the disgraceful act?
Almora shopkeepers claimed they received imported shoes in Indian tricolor boxes along with some letters written in Mandarin inside.
Locals are speculating that certain Chinese people on the Sino-Indian border are behind the disgraceful move aimed at humiliating Indians.
Almora Senior Superintendent of Police, Renuka Devi, said it was an insult to the Indian flag and that an investigation is underway.
Police Case
A local shopkeeper files police complaint
An Almora shopkeeper Bishan Bora registered a police case against a shoe supplier from Uttarakhand's Rudrapur from whom he received the shoes.
Bora claimed after opening the consignment he found that all pairs of shoes came packed in tricolor boxes, except seven pairs.
He added: "When I opened the bags, I was shocked. I called the police, sensing something wrong."
Love India news?
Stay updated with the latest happenings.
Notify Me
Rudrapur Supplier
Received shoes from a New Delhi dealer
The case was registered against Tammana Traders of Rudrapur in Uttarakhand's Udham Singh Nagar district.
The police reportedly questioned Tammana Traders' owner, who said he purchased the shoes from a New Delhi-based distributor.
He claimed he doesn't know the shoes' place of origin.
Udham Singh Nagar Senior Superintendent of Police, Sadanand Date, stated the police would question the New Delhi dealer.
BJP
Almora BJP President Lalit Latwal intervenes
The President of BJP's Almora wing, Lalit Latwal, has intervened in the matter.
He asserted that after learning about the incident, he "immediately" requested the district administration to forfeit the shoe-boxes and act against those who insulted Indian flag.
Latwal added: "It looks like a bigger conspiracy. The party workers will keep an eye on the case until those culprits are not arrested."