India
Journalist Gauri Lankesh shot dead: Does it indicate a trend?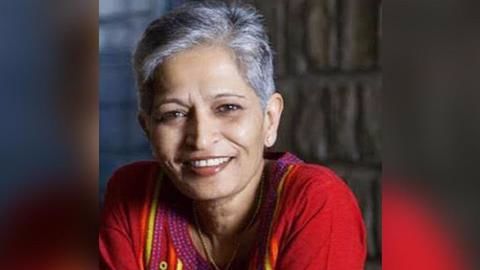 Gauri Lankesh, a Kannada journalist and editor of the Gauri Lankesh Patrike, was shot dead at her home yesterday evening.
Lankesh was a vocal critic of Hindu communalism. The Bengaluru Police have said that they found good leads in her phone and CCTV footage outside her home to track her assailants.
Who is Gauri Lankesh and why did she face such a violent death?
In context:
Are journalists safe in India?
06 Sep 2017

Journalist Gauri Lankesh shot dead: Does it indicate a trend?
Daughter of P. Lankesh, a well-known Kannada writer and forthright journalist, Gauri Lankesh began her career as an English language journalist with Sunday and TOI. Later, after her father's death, she took over the Lankesh Patrike founded by her father, which was known to be an anti-establishment paper.
She tweaked it to Gauri Lankesh Patrike and continued this ads-free tabloid which tackled hard-hitting subjects.
Love India news?


Stay updated with the latest happenings.
Focus

What was her work focused on?
Lankesh criticized Hindutva groups and regarded this criticism as part of practising "Hindu dharma."
She was considered a secular and liberal thinker.
She asserted that she followed the teachings of 12th century Kannada poet philosopher Basavanna, who most BJP followers claim to be followers of.
Due to her views and firebrand journalism, she was often called anti-Hindu, naxal sympathizer.
Views

How did she 'fight' the system?
An outspoken journalist, Lankesh spoke on a wide range of topics like Rohingya Muslims, death of children in Gorakhpur, attacks on Dalits, etc.
She used to often use social media to speak her mind.
Her bold talk got her embroiled in a defamation case. She went to jail for a story she published in 2008 about two BJP workers. She was later released on bail.
Similar murders

How it puts a spotlight on other similar murders?
This killing reminds us of the murder of three other critics of right-wing extremist ideology.
In August 2013, Narendra Dabholkar, a rationalist, who spoke against superstition and social and religious matters was killed.
In 2015, MM Kalburgi, a left-leaning former vice-chancellor of Hampi University, was shot dead in a manner similar to Lankesh's.
Govind Pansare, another leftist leader and rationalist was also shot dead.
Steps taken

What steps have the police taken in those murders?
Hindu outfit, Sanatan Sanstha, has been linked to two of the killings and one of their leaders is behind bars. Others accused in this case have been absconding.
On August 24, the Bombay HC pulled up the investigating agencies for not having been able to track the suspects.
For the Kalburgi murder case, last week, CM Siddaramaiah ordered the CID to fast-track the probe.
Love India news?


Stay updated with the latest happenings.
Free speech

Is free speech being attacked?
Following Kalburgi's death, many writers and activists returned their state awards and recognition protesting how free speech was being impinged due to such killings.
In its 2017 World Press Freedom ranking, 'Reporters Without Borders' placed India at 136 among 192 countries to measure the freedom that journalists enjoy.
Such similar killings of journalists and thinkers do appear suspicious and should be addressed.