Before privatization, clear our dues, appeals AI pilots to Center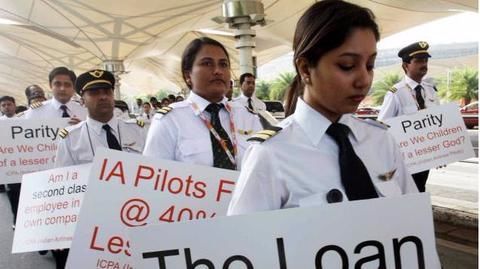 Privatization will be supported if the pending allowances are cleared.
As per reports, the largest pilots union of Air India i.e. Indian Commercial Pilots Association (ICPA) has written a letter to Civil Aviation Minister Ashok Gajapathi Raju and has marked it to Prime Minister Narendra Modi saying, they will support the government's move wholeheartedly if their dues are cleared.
Here's more about the ordeal.
In context
Air India pilots ask for their unpaid allowances
Letter
What's in the letter?
The letter appeals to the government to clear out the pilots' allowances and payables, before the transfer of ownership.
General Secretary of ICPA, Praveen Keerthi writes, "Through this letter we make a humble request to issue orders for the release of our illegally withheld 25% flying allowance and related allowances before privatization so that the new management can start with clean financial statements."
ICPA
Pay cut without any notice
ICPA consists of Air India pilots, who primarily fly on domestic routes. Back in January 2013, citing financial crisis, Air India had slashed the salaries of its staff by a whopping 25% on an ad hoc basis.
The employee unions had challenged the pay cut saying that it was done without serving a prior notice.
The case is still pending in the Supreme Court.
Love India news?
Stay updated with the latest happenings.
Notify Me
Indian Pilots Guild
It's still an unresolved matter
ICPA accepted the revised pay in 2016 and 25% pay cut was restored. However, the prior arrears haven't been cleared yet.
The Indian Pilots Guild and a majority of cabin crew haven't accepted this revised pay scale and currently, they receive 75% of emoluments.
In 2016, AI had implemented a new salary structure for pilots. ICPA says, only a few got its benefits.
Ashwani Lohani
Clean your slates first
Former CMD, Ashwani Lohani had said that withheld allowances will be released but no action has been taken.
The letter states, "As owner of the airline, Government of India is fully liable to for this payment. The transfer of ownership can take place only with clean financial statements only when all dues are cleared by Air India Ltd or its owner Govt of India."