India
Tarun Tejpal rape case: HC approves framing of charges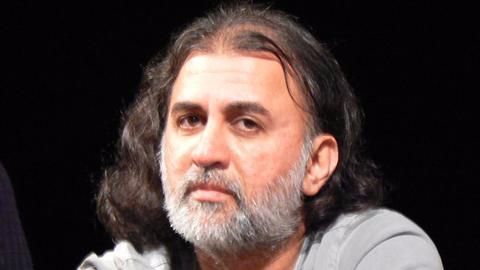 The High Court of Bombay at Goa has allowed framing of rape charges against former Tehelka editor-in-chief Tarun Tejpal at a lower court in Mapusa.
However, the court ruled that the trial would begin only after its consent.
Tejpal has been accused of sexually assaulting a female colleague in the elevator of a five-star hotel in Goa on the night of November 7, 2013.
In context:
The rape case against Tarun Tejpal
Profile

Tarun Tejpal, formerly a reputed, respected journalist
Tejpal, a reputed journalist, began his career in the 1980s with Indian Express. Thereafter he worked with India Today and Financial Express and helped found news magazine Outlook.
In 2000, he left Outlook to launch Tehelka, which made its mark in sting investigations. Among many others, it is known for 'Operation West End' (2001) and 'The Truth: Gujarat 2002' (2007).
Crime

The sexual allegations that led to his fall
Then in November 2013, a journalist working at Tehelka accused Tejpal of molesting her twice at the publication's Think festival in Goa.
Tejpal later said it was "just drunken banter", but eventually issued an "apology" which was slammed since it focused on Tehelka's achievements rather than the incident.
He was arrested on November 30 and granted bail on July 1, 2014.
Love India news?


Stay updated with the latest happenings.
Aftermath

Tehelka suffered after the Tejpal fiasco, but eventually overcame
In the aftermath, the victim and then managing editor Shoma Chaudhury resigned from the Tehelka team.
According to Mathew Samuel who replaced Chaudhury, "80-85% of our journalists quit."
Regular leaders left too. Sales slumped. Cash flow became a problem.
However, according to the publication, it eventually became stable. Print orders rose from 5,000 copies in November'13 to over 90,000 copies in December'14, it said.
26 Sep 2017

Tarun Tejpal rape case: HC approves framing of charges
28 Sep 2017

Journalist Tarun Tejpal charged with rape, pleads not guilty
A Mapusa sessions court has framed charges of rape, sexual harassment and wrongful restraint against former Tehelka editor-in-chief Tarun Tejpal.
Tejpal's lawyer said his client has pleaded not guilty to the charges.
The High Court of Bombay had earlier rejected Tejpal's plea and allowed the Mapusa court to frame charges.
Tejpal has been accused of sexually assaulting a female colleague in 2013.
What are the charges against him?

Tejpal has been charged under Section 341, 342, 343, 354 A, 354 B and 376 subsection 2 of the Indian Penal Code. The next hearing in the rape case against him is scheduled for November 21.