Celebrated lawyer Jethmalani retires after 70 years in service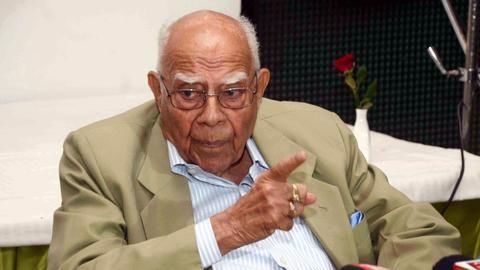 The maverick lawyer who has astounded us with the cases he has taken up, Ram Jethmalani announced his decision to retire to the Bar Council of India. He will be stepping down on September 14.
Not one to give up easily, Jethmalani said that his "job from now on" will be to "combat the corrupt politicians."
Read on to know more about his inspiring journey!
In context
Ram Jethmalani retires after 70 years
Rise
How did Ram Jethmalani's career begin?
A brilliant student, Ram Jethmalani completed his LLB at 17 from the Government Law College in Mumbai. Subsequently, he earned his LLM degree from Shahani Law College in Karachi.
He began his career in his hometown Shikarpur in Sindh (now in Pakistan) and charged Rs. 1 from his first client.
After partition, he shifted to Mumbai and became well-known in legal circles.
Contentious decisions
Ram Jethmalani's defense of those allegedly accused of murder
Jethmalani has taken up many controversial high-profile cases.
He defended Satwant Singh and Kehar Singh, allegedly involved in then PM Indira Gandhi's assassinations.
He also argued for Rajiv Gandhi's alleged assassin Murugan, and in 2005, courted controversy by claiming that Rajiv Gandhi's killing was "not a crime against India."
He defended Manu Sharma, a Haryana politician's son, in the controversial Jessica Lall murder case.
Love India news?
Stay updated with the latest happenings.
Notify Me
Alleged scamsters
Jethmalani's defenses of those embroiled in scams
Jethmalani has defended Harshad Mehta and Ketan Parekh in their respective stock market scams. He also defended famous underworld don Haji Mastan in smuggling cases.
Many politicians have approached him for his expertise. He defended LK Advani in the Hawala scam, appeared for Kanimozhi in the Spectrum 2G case and Yeddyurappa when he was accused in an illegal mining scam.
Politics
Along with a legal career, Jethmalani balances a political career
Jethmalani began his career in 1971 as an independent candidate with support from BJP and Shiv Sena.
He heavily criticized Indira Gandhi during the Emergency years, which led to many arrest warrants on his name.
He became an MP on the anti-Indira wave of 1977.
He later served as India's law minister and urban development minister during the Prime Ministership of Atal Bihari Vajpayee.
Professional decisions
Jethmalani's choice of cases is often contradictory to his statements
Though Jethmalani talks of combating black money, he defends politicians allegedly involved in corruption scandals.
He asserts that these decisions are professional. He quotes the Constitution's Article 22 that provides every accused the right to consult a legal practitioner of his choice.
He believes that until the judicial process is not exhausted, an accused can prove his/her innocence. He assists them in doing so.
Future
Meanwhile, Jethmalani is not yet done with public life
Rajya Sabha member Jethmalani has often stated that he follows his own views and not those of any political party.
He says that the present NDA government has "let down" the country. He called the present state of governance a "calamity" and asked citizens to rise.
Jethmalani aims to fight the good fight. As is his style, he will create waves while doing so.