Sushma Swaraj at UNGA: Is India growing increasingly assertive?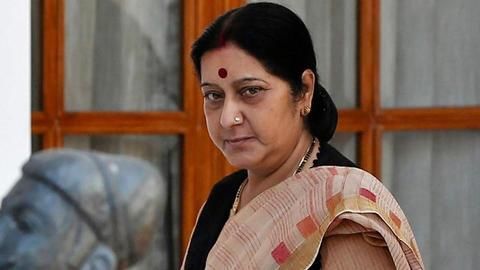 India's external affairs minister, Sushma Swaraj recently addressed the UN General Assembly.
Her speech dealt with Pakistan at great length and termed it "the pre-eminent export factory for terror."
Not shying away from taking veiled digs at China and the US, she further asserted India's views on global issues, including climate change.
Can Swaraj's speech be taken as a sign of India's growing assertiveness?
In context
Sushma Swaraj at UNGA: What did she say?
History
India and Pakistan: Neighbours who follow starkly different paths
India and Pakistan became independent within hours of each other, Swaraj said.
She said, "India has marched ahead, consistently, without pause" and created IITs, IIMs, and AIIMS and "produced scholars, doctors, engineers, and scientists."
During the same period, "Pakistan has only been engaged in fighting us."
She stated this while apprising the international community of the history of the sub-continental rivalry.
Details
Swaraj: What has Pakistan produced other than terrorists?
"Why is it that today India is a recognized IT superpower in the world, and Pakistan is recognized only as the pre-eminent export factory for terror," she loudly wondered while putting the Indo-Pakistan rivalry in context.
"What have you produced? You have produced terrorists and terrorist camps," she continued.
She also named groups including, Lashkar-e-Taiba, Jaish-e-Mohammad and the Haqqani network to substantiate her arguments.
Love India news?
Stay updated with the latest happenings.
Notify Me
Peace talks
Swaraj: India is not obstructing peace
Swaraj slammed Pakistan's claims that India was standing in the way of peace.
She accused Pakistan of conveniently forgetting facts such as their commitment to enter bilateral peace dialogue with India under the Shimla Agreement (1971) and the Lahore Declaration (1999).
She apprised the international community that Islamabad had turned down the "hand of friendship" PM Modi offered when he became PM In 2014.
Swaraj calls out Pakistan's hypocrisy
Swaraj said that everyone who heard Pakistan PM Abbasi's accusations said, "look who's talking." She slammed Pakistan's envoy who accused India of human rights violations and termed Islamabad, a "champion of hypocrisy" and "the world's greatest exporter of havoc, death, and inhumanity."
On terrorism
Swaraj asserts India's stance on terrorism
Swaraj said that terrorism cannot be distinguished on the basis of good or bad and asserted that "evil is evil."
Taking a sly dig at China, she warned nation-states against allowing self-interest to form "duplicitous positions" on terror.
She urged world leaders to show their commitment towards fighting terrorism by agreeing upon the "Comprehensive Convention on International Terrorism," which India had proposed in 1996.
Other issues
On addressing global challenges
In addition to Pakistan and terrorism, Swaraj's speech touched upon concerns over the huge refugee influx from West Asia, the nuclear threat from North Korea and cybersecurity.
On climate change, she said that India was committed to the Paris Agreement.
Taking a dig at Donald Trump, she stated that India's commitment was not driven by an "imagined greed (for finances)."
Conclusion
The larger picture
Swaraj's speech assertively conveyed India's priorities and views on issues, including terrorism and climate change.
India was able to convey to China and Pakistan that India won't sit quietly, but relentlessly carry on its fight against terrorism on a global scale.
Moreover, India seems to have successfully portrayed its willingness and capability in emerging as a potential world leader.