India
Kejriwal's famous blue WagonR stolen from outside Delhi Secretariat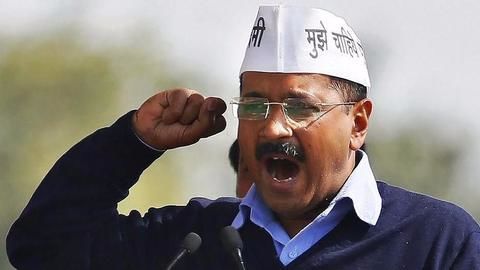 On 12th Oct, the famous blue "WagonR" of Delhi CM Arvind Kejriwal was reported stolen from outside the Delhi Secretariat.
The car was being used by AAP's media coordinator Vandana Singh when it was stolen. The police are reviewing the "blurry" CCTV footage.
The "AAP mobile" was used by the CM to demonstrate his party's stance of fighting VIP culture and standing by the masses.
In context:
Kejriwal's iconic blue WagonR is stolen
12 Oct 2017

Kejriwal's famous blue WagonR stolen from outside Delhi Secretariat
WagonR

Why did the WagonR attain such glory?
Kejriwal used the WagonR, which he reportedly received as a gift, during his first election campaign and subsequently during his CM stint, after refusing to use a government vehicle.
In 2014, the WagonR was used for cabinet meetings, sleeping and camping during Kejriwal's famous sit-in public protest against the police's inability to reign in the drug and prostitution mafia in South Delhi.
Love India news?


Stay updated with the latest happenings.
Twitter

Meanwhile, twitterati goes bonkers over Kejriwal's stolen car
Twitter had a field day. Poking fun at Delhi's odd-even rule enforced by Kejriwal, which allows cars with odd-even registration numbers to run on alternate days, @sunil_ss7 tweeted that "Whoever stolen Kejriwal's car on ODD day will be giving it back on EVEN day."
Another user @nikkhill advised Kejriwal "Sir now please take the Delhi Metro daily. #KejriwalCarStolen"
Bizarre

When the iconic car's donor had asked for it back!
In a bizarre story, this car became the subject of controversy in 2015 when Kundan Sharma, who had donated it to Kejriwal, asked for it back after Prashant Bhushan and Yogendra Yadav's removal.
"#IDemandMyDonationBackFromAAP: My blue WAGONR,my Bike&lacs of rupees that I donated2AAP," he had tweeted.
Sharma later clarified he didn't actually want it back, but simply wanted to draw the CM's attention.
13 Oct 2017

AAP announces reward for information on Kejriwal's stolen WagonR
The police still have no clue about Delhi CM Arvind Kejriwal's stolen blue WagonR, so the AAP has now announced a reward for information. The amount hasn't been revealed though.
"There are a lot of emotions, memories attached to it," said Naveen Jaihind, one of the many party leaders who had borrowed the car. He also offered an undisclosed amount as reward.
14 Oct 2017

Kejriwal's iconic blue WagonR recovered two days after theft
Two days after being stolen from outside the Delhi Secretariat, CM Arvind Kejriwal's iconic blue WagonR has been recovered.
It was found abandoned in Mohan Nagar area of Ghaziabad. However, no one has been caught yet.
During the theft, CCTV cameras captured the accused near the site. Police have circulated his pictures throughout Delhi and are expecting he will be nabbed soon.