Jet Airways Mumbai-Delhi flight diverted to Ahmedabad after hijack-note found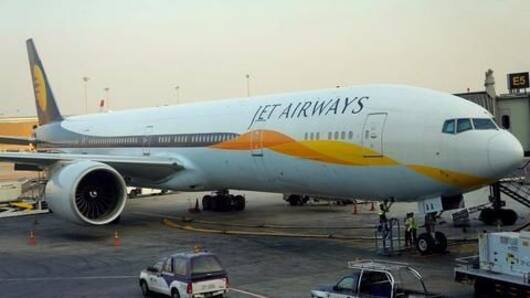 Owing to "security reasons", a Mumbai-Delhi Jet Airways flight last night was diverted to Ahmedabad and passengers deplaned.
According to Times Now, the threat was a hijacking attempt. It reported the airlines had confirmed the incident.
"The aircraft landed without incident at Ahmedabad, where all 115 guests and seven crew members were safely deplaned," a statement by Jet Airways said.
In context
Delhi-bound Jet Airways flight diverted after security threat
Details
What happened?
Sources said after the flight took off from Mumbai at 2:55am, an airhostess found a note in the washroom.
"9W-339 is covered by hijackersmshould be flown straight to POK.Cargo area contains explosive bombs and will blast if you land in DEL," it said.
Following established security procedures, the flight was immediately diverted to Ahmedabad.
At 3:50am, it landed safely at Sardar Vallabhbhai Patel Airport.
What's going on now?
Security agencies are investigating the matter. Jet has said it is extending full co-operation. "The airline regrets the inconvenience caused to its guests," the statement said, adding it is trying to get them to Delhi as soon as possible.