Dengue virus behind many fatal outbreaks discovered in India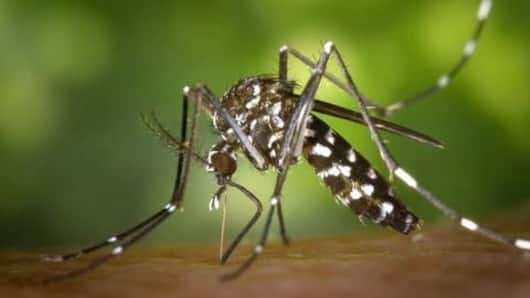 For the first time, Indian scientists have confirmed the presence of the Asian genotype of the DENV-1, a dengue virus, in the country.
Its American-African genotype has been circulating in India since the 1940s.
The Asian genotype was responsible for severe outbreaks in Singapore (2005) and Sri Lanka (2009) earlier, and in Tamil Nadu (2012) and Kerala (2013) too.
Know more about it.
In context
New dengue virus found in India
Viruses
The four viruses responsible for dengue
Dengue, a mosquito-borne viral infection, is caused by four different types of viruses- DENV-1, DENV-2, DENV-3 and DENV-4.
If one recovers from one type of serotype (DENV-1/2/3/4), they are immune to it for life. However, if another serotype affects them later, the risk of severe dengue increases, which could be lethal.
According to WHO, half of the world's population is at risk.
Prevalence of dengue in India
During January-July 2017, India saw an increase of 11,832 in dengue cases over the same period last year, said the Directorate of National Vector Borne Disease Control Program. The number of deaths this year was recorded at 46, a jump of 11 from last year.
Love India news?
Stay updated with the latest happenings.
Notify Me
DENV-1
The discovery of a new, severe virus in India
Scientists of the National Institute of Virology have now found the Asian genotype of the DENV-1 in blood samples of patients in southern India.
It has been seen only in TN and Kerala till now; researchers are studying samples from Maharashtra, Delhi and others.
However, this doesn't mean the American-African genotype has been replaced completely. Further investigations are necessary to conclude that.
Action
India needs to work more to keep dengue in check
Earlier this year, the Delhi HC had rapped the Centre for lack of work done in checking vector-borne diseases, saying, "Mosquitoes don't wait for meetings."
However, in a significant development, researchers at Liverpool University, Hyderabad's IICT and Guwahati's NIPER recently identified climatic risks for dengue outbreaks in different Indian climatic zones.
The administration needs to invest more to prevent this disease from spreading further.