The blind can't identify new Rs. 50-note: PIL in Delhi-HC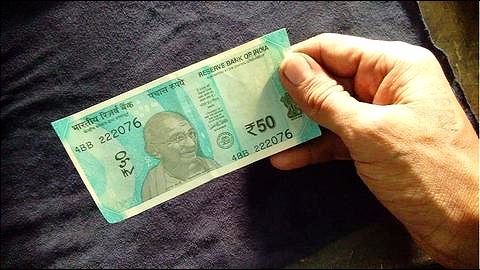 A PIL filed in Delhi HC claimed the newly-issued Rs. 50 notes are so designed that visually-impaired people cannot identify or differentiate them from other notes.
Stressing that the matter was of public importance and needs urgent attention, an HC bench asked RBI and Centre to respond within two weeks.
The petition sought a stay on printing/circulation of the notes, which the court refused.
In context
Visually-impaired persons can't identify RBI's new Rs. 50-note
New notes introduced in August
Seeking response from RBI and Centre, the Delhi HC bench comprising Acting Chief Justice Gita Mittal and Justice Hari Shankar listed the matter for further hearing on 6 December. The new Rs. 50 notes were issued by RBI on 18 August.
The PIL
Seeks directions to authorities to withdraw Rs 50-notes
The PIL claimed the Rs. 50 notes in circulation don't have any identification mark to help the visually-impaired differentiate between different notes.
Advocate Rohit Dandriyal, two other advocates, and a company secretary filed the PIL.
They sought the HC's direction to RBI to withdraw these notes and issue new ones bearing an identification mark after which the Centre should approve them.
Love India news?
Stay updated with the latest happenings.
Notify Me
Currency Notes
Different identification marks on various denominations
The plea said according to RBI, every currency note (except Rs. 10-note) should bear a unique design feature on the left of its watermark window.
Every denomination has a different shape to help blind persons identify the notes.
For example, the Rs. 20-note bears a vertical rectangle, the old Rs. 50-note had a square design, while Rs. 100 has a triangle and circle.
Constitutional Right
RBI, Govt violated rights of the blind: Petitioners
The petitioners claimed that by issuing notes that do not bear identification marks, the Centre and RBI "violated" the constitutional right of the visually impaired.
The plea said their right is confirmed by "Article-14 of the Constitution India, i.e., the state shall not deny to any person equality before the law or the equal protection of the laws within the territory of India."
Rights of the visually impaired
The Delhi HC bench stated: "The issue is of public importance and relates to the rights of the visually impaired persons. It needs an urgent attention of the RBI and Central government. Let it be considered."