India
Chennai reels under heavy rains: 12 killed, schools remain shut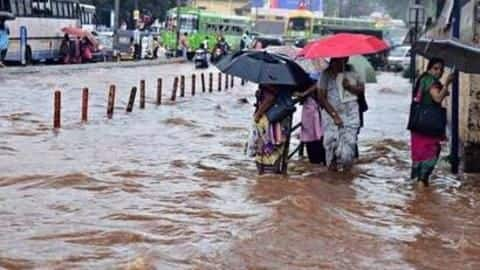 Torrential rains continued to lash Chennai, crippling normal life and raising the death-toll to 12 from the northeast-monsoon that arrived on 27 October.
Chennai's rainfall (since 27 October) is three-fourths of its rainy season average.
According to IMD, Chennai received 554.2mm rainfall (by 8:30am on 3 November), 74% of its long-term average of 750mm for the rainy season (calculated between 1 Oct-15 Dec).
In context:
Heavy rains from northeast monsoon sink Chennai
04 Nov 2017

Chennai reels under heavy rains: 12 killed, schools remain shut
Third highest rainfall in history

Chennai recorded 183mm rainfall on 2 November, the third-highest rainfall in its history in a single day for the month, behind 1976's record 452.2mm and 246.15mm in 2015. Till Friday (3 November), it received 441.3mm rain, 58.84% of the average for the northeast monsoon.
Love India news?


Stay updated with the latest happenings.
Schools

Schools continue to remain shut due to heavy rain
As heavy rain continued to batter Chennai, several parts reported flooding, mostly of interior roads, hitting traffic in the city for the second consecutive day.
Schools in Chennai and other coastal towns remain closed for the fifth consecutive day. Many districts received more than average rainfall.
The E Palaniswami government is facing criticism over the handling of the rain situation in the state.
Temple tanks start to fill

Meanwhile, water levels in temple tanks in Chennai and nearby districts started to rise thanks to the heavy rains. The last year's poor monsoon had left most temple tanks dry. Continuous rains started to bring water to these tanks, which also recharge

groundwater

levels.
Palaniswami

People are unaffected, says CM Palaniswami
At a time when 12 people died in rain-related incidents, ironically CM Palaniswami said, "People are unaffected," while visiting Mudichur and Perungalathur.
He claimed 300km out of Chennai's 386km-long drain network project announced by Jayalalithaa has been completed, which helped in removing water from low-lying areas.
Facing criticism, the government earlier listed out various rehabilitation measures and steps it had taken to prevent floods.
Rs. 1,100cr drain network project in Chennai