Modi: With GST, our rankings of "doing business" will improve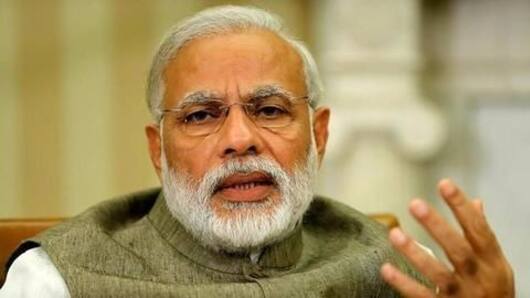 While speaking at the 'India's Business Reforms' conference in New Delhi, PM Modi lauded his government and corporate India's "hard work" for ensuring that India breaks into the top-100 of the World Bank's "Ease of doing business" report.
He said the World Bank had "recognized (the) stupendous work done" by his government.
He criticized the opposition for making negative comments about India's rankings.
In context
Modi lauds jump in "business ease" rankings
Rankings
India jumped "ease of doing business" rankings by 30 places
In a recently released World Bank report "Doing Business 2018: Reforming to Create Jobs," India stunned the world by jumping 30 places on the index and ranking 100 of 190 countries.
World Bank attributed the jump to improvement in "taxation, licensing, investor protection and bankruptcy resolution" policies.
Further, India improved its rankings in 6 of 10 indicators including tax compliance.
GST
"GST's implementation will improve India's position further"
Modi asserted that India will have a better ranking in 2018 as the current rankings didn't take into account GST's implementation.
He said the rankings have considered reforms only until May-end and GST which was implemented on July 1 provides a "stable and transparent" tax regime.
He declared that government plans to address issues raised by traders and businesses to stabilize the tax regime.
Love India news?
Stay updated with the latest happenings.
Notify Me
Opposition
Modi criticized the opposition for being negative about the achievement
Taking a dig at the opposition, Modi said those who earlier worked at World Bank are now questioning it.
He said, "Some people are unable to understand India moving from 142 to 100 in the ease of doing business rankings. It makes no difference to them."
He suggested that if UPA had brought in reforms in insolvency/bankruptcy code, rankings would have improved earlier.
Other reforms
Modi also listed other reforms by his government
Modi asserted that ease of doing business leads to ease of life.
He added that tax-filing, registering new-businesses and getting electricity connections have become easier.
Further, he said that India is "among the most open-economies of the world." The government is making efforts to improve investment-climate as 90% FDI approvals are now through automatic route.
He emphasized the importance of "minimum government, maximum governance."