What caused the explosion at NTPC Unchahar power plant?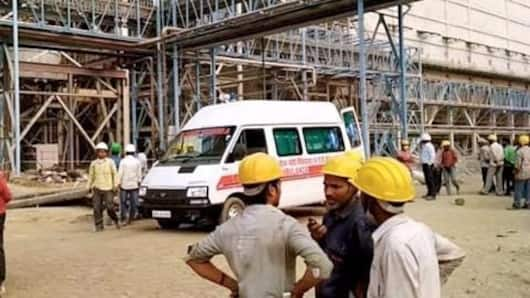 Preliminary probe on the boiler explosion at NTPC's Unchahar power plant suggested its 500MW Unit-6 was operating on a less-than-sanctioned load for over an hour.
It said a snag in the ash evacuation system occurred at 2pm before the explosion at 3:30pm.
NTPC Regional Executive Director (North), Ravindra Singh Rathi, confirmed Unit-6's power-generation capacity was decreased to 190MW from 400MW after detecting the snag.
In context
Probe on boiler explosion at NTPC Unchahar plant
The snag was getting fixed, says Rathi
According to Ravindra Singh Rath the snag in the unit's coal evacuation system "often happens" and gets fixed. He added, "This time, too, the machine was kept in an operational mode while the snag was getting fixed."
Details
Boulders of ash got stuck in evacuation system
Rathi said after detecting the snag, Unit-6's operational load was decreased to bring down the amount of coal pumped into the furnace and thereby reducing the ash load.
However, the situation "aggravated" as "boulders of ash" blocked the evacuation system, increasing the pressure inside the furnace.
He added some boulders entered the furnace, disrupting the combustion process and raising the pressure "alarmingly".
Love India news?
Stay updated with the latest happenings.
Notify Me
Boiler burst due to high pressure
The probe suggested engineers detected the snag well before the high-pressure build up inside the furnace due to the blocking of ash evacuation system. A section of the boiler burst open owing to the tremendous pressure, letting out the trapped "flue gases and simmering ash."
3-member panel
NTPC constitutes three-member panel to probe blast
Rathi said the Unchahar plant boiler explosion was a case study to ensure the safety of power plants in India.
A three-member expert committee led by NTPC's Executive Director (Operations) SK Roy, and comprising General Manager AK Sanaiyar and General Manager (Engineering) Udyan Kumar was constituted to probe the blast.
It would examine "what went wrong" and submit its report in a month.
Experts
BHEL to send experts to NTPC-Unchahar plant
The NTPC committee would also consult experts of the state-owned heavy electrical equipment manufacturer, Bharat Heavy Electricals Limited (BHEL).
BHEL specializes in the manufacturing of thermal power station equipment like boilers and turbines.
In fact, the NTPC-Unchahar plant's blast-affected Unit-6 boiler was also provided by BHEL.
Rathi said the panel would examine everything at the unit, from its design, operation, to the maintenance.