Indian-Railways goes green! Disposable eco-friendly towels, pillow-covers for Rajdhani Express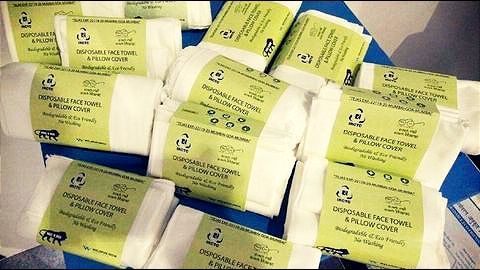 Passengers traveling on the newly-launched third Delhi-Mumbai Rajdhani Express can say goodbye to dirty hand towels, and pillow covers provided on trains.
The Western Railways has introduced disposable, eco-friendly hand towels and pillow covers for the Hazrat Nizamuddin-Bandra Rajdhani Express.
The railways' operator got positive feedback when it carried out a trial of the biodegradable products on the Mumbai-Central Jaipur line.
Read more!
In context
Delhi-Mumbai Rajdhani passengers get biodegradable towels, pillow-covers
Details
70 towels stolen on each train every month
Western Railways hopes its latest green initiative would not only curb hygiene-related complaints but also save money by preventing the cases of towel theft on trains.
The operator said it receives at least five linen hygiene-related complaints at its Mumbai division itself.
It added more than 70 towels also get stolen every month on each Western Railways train between Mumbai and other places.
Hygiene and passenger satisfaction
Disposable, eco friendly towels & pillow covers are part of WR's green initiatives besides focussing on hygiene & passenger satisfaction pic.twitter.com/PFGlQ9w6Sw

— Western Railway (@WesternRly) November 4, 2017
Love India news?
Stay updated with the latest happenings.
Notify Me
Cost
But, how much do these green products cost?
Officials said the standard towels cost around Rs. 6 each including the costs of procuring, washing, and handling.
On the other hand, the disposable towels cost only Rs. 4.75 per piece with no maintenance cost. The eco-friendly pillow covers cost up to Rs. 8, similar to the regular ones.
Western Railways said using the disposable products is cost-effective as well as more hygienic.
Other Trains
Disposable products to be introduced for other passengers too
Western Railways said over 2,300 disposable towels and pillow covers are being provided on the third Delhi-Mumbai Rajdhani Express per round trip. The train was introduced on 16 October.
Indian Railways would reportedly carry out more trials of the green towels and pillow covers, before introducing them for other trains.
The material used for the disposable products is biodegradable cotton.
Received positive response from 90% passengers
Western Railways Chief Public Relations Officer, Ravinder Bhakar, said: "Almost 90% of passengers on Rajdhani Express have given positive feedback. The rest have demanded more napkins but have not questioned the quality."