Delhi's problem is everyone's problem: How other cities are suffering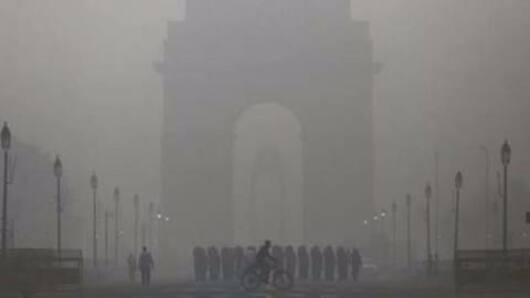 Delhi's smog isn't affecting just the capital. Impact of the dismal air quality is being felt in all cities in northern India.
Yesterday, Varanasi topped the list with an air quality index (AQI) of 491 (PM2.5). Then followed Gurugram (480), Delhi (468), Lucknow (462) and Kanpur (461).
In PM10, Noida Sector 125 had an AQI of 1,119, followed by Ghaziabad (932) and Delhi (775).
In context
Smog is not just Delhi's problem
What's the difference between PM2.5 and PM10?
'PM' stands for Particulate Matter - particles in the air like bacteria, organic/construction dust, coal particles from power plants etc. The '2.5' and '10' refer to size (microns/micrometers): each comprises particles smaller than them. Hence PM10 comprise PM2.5 and all sizes below 10 microns.
PM10
Condition severe in Delhi's neighboring cities
For PM10, an AQI of 100 is considered satisfactory. But the condition has gone for a toss in cities of UP (Varanasi was at 571 and Moradabad at 541) and Punjab (Ludhiana at 340 and Amritsar at 234).
In Rajasthan, Udaipur registered AQI of 218, Jaipur 237 and Alwar 309.77. Bhiwandi, Rajasthan's most polluted city post Diwali, registered an AQI of 478.78.
Love India news?
Stay updated with the latest happenings.
Notify Me
Factors
What has led to the abysmal conditions?
Air pollution in Delhi remains at high levels throughout the years, but is complicated further during the winters due to a combination of factors.
For one, stubble burning in neighboring states and burning of biomass for heating raise smog levels in the capital.
Bursting of crackers during Diwali also contribute.
Slow winds this time are preventing dispersal of pollutants.
Measures
Authorities resort to emergency steps
The Delhi administration has resorted to emergency measures like temporarily shutting down schools.
The Delhi Metro is running extra trips. Parking fees for private vehicles have been increased. Trucks have been barred from entering the capital.
Activities like construction and brick kilns have been banned.
The government had declared implementation of odd-even scheme, but has called it off for now saying it isn't ready.