India
Homosexuality is a tendency, not permanent: Sri Sri Ravi Shankar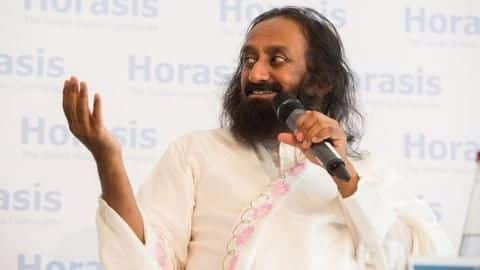 Indian leaders have often made the news for their bizarre comments on homosexuality, but Sri Sri Ravi Shankar is one of the few who have been admired for their support to people regardless of sexuality.
While speaking at a recent JNU event, Ravi Shankar motivated a student to face sexuality-based discrimination.
Ironically, he ended up saying how homosexuality is a "tendency" that's not permanent.
In context:
Sri Sri Ravi Shankar comments on homosexuality
14 Nov 2017

Homosexuality is a tendency, not permanent: Sri Sri Ravi Shankar
Quotes

What exactly happened at the interaction?
The spiritual leader was at JNU to deliver the 13th Nehru Memorial Lecture. Afterwards, a student asked him how he should handle the treatment he receives due to his orientation.
"You don't think you're sick or something's wrong with you," Ravi Shankar said. "This is your tendency...know that this tendencymay change."
Ravi Shankar added he had seen gay men turning straight and vice versa.
Love India news?


Stay updated with the latest happenings.
Ravi Shankar also talked about JNU's "anti-national" tag
Statements

Here's what all our leaders have said about homosexuality
Baba Ramdev once invited homosexuals to his ashram so he could "cure them" through yoga.
Congress' Ghulam Nabi Azad thinks homosexuality is "unnatural and a disease", and BJP's Rajnath Singh concurs.
BJP's Subramanian Swamy even thinks legalizing homosexuality will lead to commercial profits as "gay bars will be opened in all cities on FDI".
But Congress' Shashi Tharoor has constantly batted for LGBT rights.