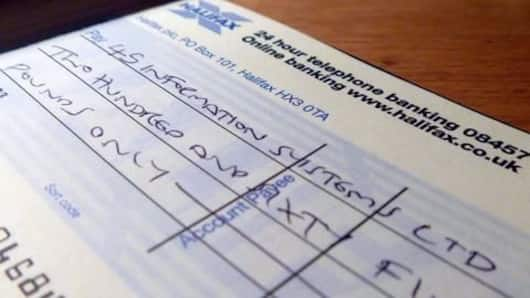 Govt to now end cheque books in India? Know more.
According to Confederation of All India Traders (CAIT) Secretary General Praveen Khandelwal, the Indian government is mulling yet another disruptive move towards a cashless economy: abolishment of the cheque book.
The effects could be massive. Most business transactions are conducted through cheques. 95% transactions currently take place via cash or cheques.
There have been mixed trends, but cashless payments have overall increased post demonetization.
The government's concerted efforts towards a cashless economy
The Narendra Modi government has focused on movement towards a cashless economy. Benefits are several: no hassle of carrying cash, ease of tracking expenses, lower risk of theft and more.
To meet its aim, the government has launched several measures and come with new digital payment apps like BHIM.
UPI, which was the first such system in India, now facilitates instant fund transfer.
Effects of demonetization have largely been mixed
There have been mixed reports on demonetization's effects. The NPCI claimed transactions through UPI have shot up by 77 times.
However, other reports attributed an initial surge in digital transactions to lack of cash.
According to The Indian Express, value of mobile wallet transactions went up from Rs. 3,385cr in October'16 to Rs. 8,353cr in March'17, then fell to Rs. 7,262cr by August'17.
Love India news?
Stay updated with the latest happenings.
Yes, notify Me
Now the government is reportedly considering banning cheque books
Now the government is considering withdrawing the cheque book facility in the "near future", says CAIT Secretary General Khandelwal.
However, it will have to complement the move by "providing subsidy directly to the banks" so charges on debit and credit card payments can be waived, he added.
As of now, only 5% of India's 80cr ATM-cum-debit cards are used for cashless payments.
How will removing cheques help?
According to Khandelwal, "The government spends Rs. 25,000cr on printing of currency notes and another Rs. 6,000cr on their security and logistics."
In fact, the RBI said it spent Rs. 7,965cr in 2016-17 (July-June) on printing notes, more than double that of the previous year's Rs. 3,420cr.
A ban on cheques will boost digital transactions, thus helping the economy save such expenses.
Finance Ministry refutes reports about banning of cheque books
After reports emerged that the government might ban cheque books, the Finance Ministry has denied any such proposal under consideration.
"While the Government is committed to transform India into a less-cash economy…cheques are an integral part of the payments landscape and form the backbone of trade and commerce," a statement said.
Earlier, CAIT Secretary General Praveen Khandelwal had hinted at removal of cheque books.