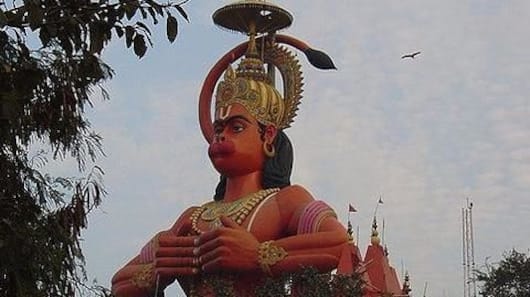 Delhi encroachment: Consider 'airlifting' Hanuman statue, says HC
If the Delhi HC has its way, the capital's iconic 108-feet Hanuman statue at Karol Bagh would be airlifted to remove encroachments around it.
"Consider if the statue can be airlifted. You know, in the US, entire skyscrapers are shifted as a whole," said the bench.
The observation came as it heard a PIL seeking removal of illegal constructions from Karol Bagh.
Encroachment has been one of Delhi's biggest problems since years
Encroachment is a problem Delhi has been battling since years. There are unauthorized buildings, footpaths and more, even in Zones O and P, despite a ban on construction on the Yamuna-bed.
In fact, a study by the CRRI attributed road congestion and traffic jams more to encroachment than to the number of vehicles.
Lack of staff in the civic bodies has worsened the situation.
With much urging, authorities have finally stepped up
In recent times, authorities have stepped up to check the menace. LG Anil Baijal in June ordered immediate removal of encroachments on major roads.
The NDMC carried out an anti-encroachment drive in Chandni Chowk during November 11-13.
In a unique move, the SRDC has asked NDMC officials and Delhi Police to click and send pictures of such sites to improve coordination and fix accountability.
Love India news?
Stay updated with the latest happenings.
Yes, notify me
'Civic bodies got enough chances but couldn't enforce laws'
On its part, the Delhi HC, which earlier called the DDA's record in securing its lands "appalling", said if the municipal bodies could "at even one place show that the law was being enforced, the mindset of the people of Delhi would change".
It also said Delhi's civic bodies had been given enough chances to enforce laws "but no one wants to do it".
'Judiciary playing with Hindu sentiments': Twitterati slams Hanuman 'airlifting' suggestion
Meanwhile, its suggestion to airlift the Hanuman statue triggered protests on social media. terming it "judiciary jihad", @KrunalvV tweeted: "When judges are on self destruction mode we should help them."
"Yet another incident of playing with hindu sentiments by judiciary," said @kabhishek744.
@WhyGovtWhyNotUs posted, "The illegality of #Hanuman construction is visible but illegality of Sainik Farm construction is in cold storage."