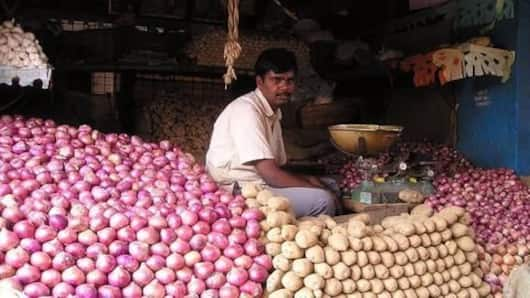 After eggs, now it's onion: Prices would touch Rs. 100/kg
First it was eggs whose prices shot through the roof in a few weeks. Now people are reeling under rising prices of onions.
In many cities including Mumbai and Bengaluru, retail prices have gone up from Rs. 20-30/kg to as high as Rs. 65-70.
There is likelihood it will soon cross Rs. 100/kg.
Is the government paying heed?
Vegetable prices keep rising periodically, so why is this surprising?
Prices of vegetables rise periodically almost every year, but not generally in winters when prices are relatively low. The summer of 2017 also saw unusual trends: compared to the normal high rates, prices in some places fell to as low as Rs. 2/kg.
Okay. So what is driving up prices so high?
A combination of factors has hit supply. Rains in the west and the south affected production, drastically reducing production: Bengaluru is receiving just 20-25 truckloads from AP compared to the usual 80-100.
The first four months of FY2017-18 saw large exports, up by 56% from last year, thus exhausting supplies.
Lack of storage facilities led to a waste of tons of the kharif crop.
Love India news?
Stay updated with the latest happenings.
Yes, notify Me
Did demonetization and GST play some role?
Demonetization affected production schedules severely: during January-June, farmers received low prices for their produce, forcing them to terminate their summer crops earlier than usual.
Owing to demonetization and GST, there is lower amount of money circulating in wholesale vegetable markets where trading is cash-based.
Interestingly, these very factors led to drop in prices of non-perishables, where buyers are willing to take long speculative positions.
Is the government doing anything to check the situation?
In an attempt to increase supply and check prices, it has asked the state-run MMTC to import 2,000 tons of onions, while SFAC and NAFED will buy 12,000 tons from local markets.
It also set a minimum export price (MEP) of $850/ton; MEP was scrapped in December'15.
However, since farmers don't have adequate storage facilities, a rise in MEP may add to woes.
What do prices of other vegetables look like?
It's not just onion prices that are increasing. We reported sometime ago how at Rs. 7-8/piece, eggs are now as costly as chicken in many places.
Costs of carrots and beetroots have also increased: carrots are going for Rs. 80-90/kg compared to Rs. 60, while beetroot prices rose from Rs. 55 to Rs. 70.
However, prices of tomatoes have fallen in some places.