New European satellite detects alarming pollution levels in North India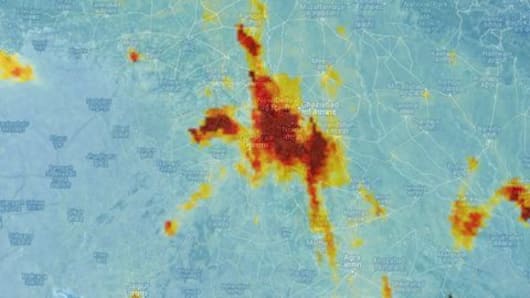 Satellite images captured by the European Space Agency (ESA) have revealed alarming levels of pollution in northern India on November 10, when Delhi was struggling with a crisis.
The first batch of images captured by the Sentinel-5P, "the first dedicated to monitoring (earth's atmosphere", was released two days ago.
During November 6-14, Delhi was in the midst of a "public health emergency".
In context
European satellites capture alarming pollution levels in Delhi
Sentinel-5P
About ESA's new satellite to detect earth's environment
The Sentinel-5P was launched in October'17. It aimed to offer unprecedented details about the environment.
The advanced Tropomi sensor can detect pollutants like carbon monoxide, nitrogen dioxide, methane and aerosols. The whole planet can be mapped every 24 hours.
Its first images have also shown nitrogen dioxide over Europe (Netherlands, Germany, Italy and Spain); and carbon monoxide in Asia, Africa and South America.
Delhi
What caused high pollution in Delhi this time?
Diwali and stubble burning in neighboring Haryana and Punjab often lead to worsened air quality in Delhi during October-November.
The SC had banned firecrackers, but several loopholes meant citizens celebrated Diwali noisily.
Slower surface winds and higher moisture content eventually led to slower dispersal of pollutants.
Sentinel-5P images also showed pollution from power plants, vehicular exhaust and construction dust.
Love India news?
Stay updated with the latest happenings.
Notify Me
Industries
The government acts towards reducing emissions from power plants
The Centre had set December 7 as the deadline for power plants commissioned to meet stricter emission norms.
However, recent affidavits show none is on track.
The environment ministry is working with the industry to bring about changes to meet the revised standards.
Deadlines set by the Central Electricity Authority will result in required infrastructure being installed to meet sulphur oxide limits starting 2020.
Is Delhi entering another pollution crisis?
Meanwhile, on December 1, pollution levels in Delhi reached as high as the November crisis. PM10 levels reached 412 ug/m3 during the day, the same as November 14. Air quality index scored 343 in a scale of 500 and was in the "very poor" category.