'Would you rather salute Afzal Guru?' Naidu on 'Vande-Mataram' protests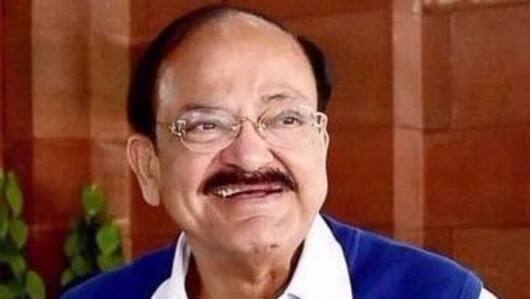 Vice president Venkaiah Naidu has lashed out at those opposing the 'Vande Mataram' slogan, asking, "If not your mother, whom would you salute, Afzal Guru?"
"Vande Mataram means 'salute to mother'. What's the problem?" he asked.
He added 'Bharat Mata Ki Jai' wasn't about "some goddess in a photo", but about the "125cr people living in India".
In context
Venkaiah Naidu reacts to Vande Mataram controversy
Protests
The opposition to compulsory renditions of Vande Mataram
Different groups have protested attempts to mandate singing of Vande Mataram. When the Madras HC in July made it compulsory for all Tamil Nadu schools to sing the national song, many criticized the decision.
Recently, Meerut's new BSP mayor revoked her BJP predecessor's decision, ruling singing of 'Vande Mataram' before municipal corporation meetings isn't compulsory any longer.
Hinduism
'Indians are non-violent due to Hinduism'
Naidu also talked about Hinduism, saying it's not just a religion but a way of life. The non-violent nature of Indians can be attributed to Hinduism, he said.
"Every Tom, Dick and Harry attacked India, ruled it, ruined and looted it, but India never attacked any country because of its culture."
"Our culture teaches us 'Vasudev Kutumbakam', that means the world is one family."
Love India news?
Stay updated with the latest happenings.
Notify Me
'Singhal might have gone but we shouldn't forget his goal'
While speaking at the launch of a book on former VHP chief Ashok Singhal, Naidu called him one of the finest proponents of Hinduism, who wanted Muslims to join the freedom struggle in large numbers. "He might have gone but we shouldn't forget his goal."