Soon, ready-to-eat meals from Nestle and more brands on trains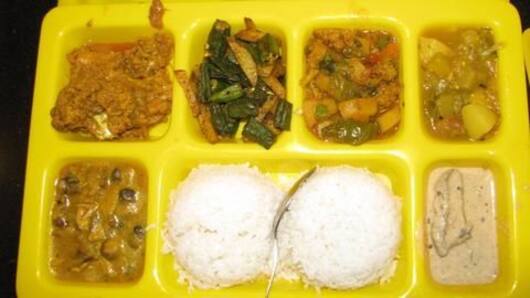 The Indian Railways' dismal catering service gained major attention when in July, a CAG report said food served on trains is "unfit for human consumption".
To solve the issue, Railways has decided to go for pre-packaged meals from reputed brands for "high quality stuff".
The pilot project is beginning with ready-to-eat meals from Nestle. It has already identified a couple of trains for it.
In context
Railways trying to solve issues about train food
CAG
Railways serving contaminated food, unpurified water and more, finds CAG
In July, a CAG report revealed alarming facts: contaminated and recycled food, unpurified water and other edibles unfit for consumption is being served on trains and stations.
Catering personnel didn't even have menus with them, so food was being sold in railway premises at much higher prices.
The report blamed frequent changes in catering policy and inability of the Railways to provide proper infrastructure.
Scheme
Now pre-packaged meals from reputed brands to replace freshly-cooked food
Now the Railways is replacing IRCTC-approved vendors who provide freshly cooked food, and introducing ready-to-eat meals.
Such meals will be exclusively manufactured for Railways, which will negotiate and regulate the MRP.
Other brands like Haldiram and Dominos will also be approached.
Pre-packaged meals are already on offer on the Firozpur Shatabdi. "Around 10-20% are opting for ready-to-eat meals," an official said.
Love India news?
Stay updated with the latest happenings.
Notify Me
Options
Food from major chains can also be delivered to stations
The Railways has already partnered with well-known names like Domino's, KFC, McDonald's, Sagar Ratna and Pizza Hut to have their food delivered to stations.
Passengers can pre-book meals online (www.ecatering.irctc.co.in) or through phone (1323).
This scheme is only available on the Rajdhanis and Shatabdis for now. Conversely, the new pre-packaged meals on offer will not be available on these trains right now.
Railways will soon have 70-75 authorized and monitored base kitchens
Apart from the new ready-to-eat meals, Railways is setting up 70-75 base kitchens across India. These kitchens, fitted with CCTV cameras and state-of-the-art infrastructure, will be the only place where meals for trains are cooked; presently, vendors cook food at their own facilities.