32-year-old man arrested for stalking, harassing Sachin Tendulkar's daughter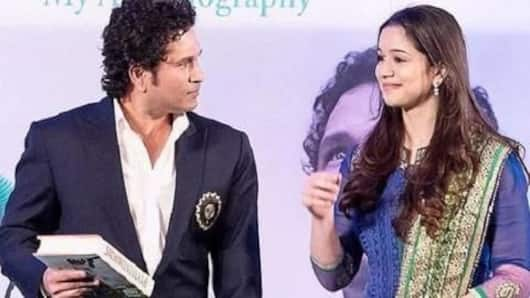 A 32-year-old man from West Bengal has been arrested for stalking and harassing Sachin Tendulkar's daughter Sara.
Debkumar Maity, an unemployed college dropout, allegedly called up the Tendulkar residence, professed his "love" for Sara and threatened to kidnap her.
But how he got their number remains a mystery.
His relatives claim he is mentally unstable.
Police are investigating the matter.
In context
Man arrested for stalking and harassing Sara Tendulkar
Details
The man has been calling and threatening Sara since sometime
Sometime ago, Sara lodged a police complaint about a stalker who made lewd comments to her on phone.
Cops located Maity by tracing the location of the phone used to make the calls.
After he was nabbed from Mahishadal in WB's East Midnapore, he confessed he had seen Sara on TV and "fell in love".
He claims he has never seen her in person.
Was the man mentally disturbed?
Police recovered from Maity a diary in which he had scribbled Sara's name proclaiming her as his wife. His relatives claim he has been undergoing treatment for mental illness for years and even tortures his parents. He'll now be taken to Mumbai on transit remand.
Love India news?
Stay updated with the latest happenings.
Notify Me
Laws
What does the law say about stalking?
Presently, stalking is punishable by imprisonment of up to three years under Section 354D.
Congress leader Shashi Tharoor has proposed making stalking a non-bailable offense.
There was a need for a "crackdown on stalking, not just as a crime in itself, but as a possible precursor to worse crimes", he had said.
For victims, the key is to alert near ones and seek help.