Jammu and Kashmir's 2018-19 budget is all rainbows and smiles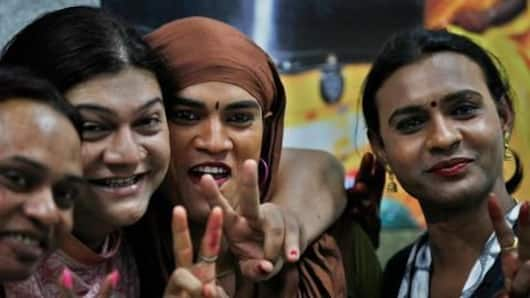 It is raining good news for Jammu and Kashmir's transgender community.
They will now be able to avail all the facilities and subsidies exclusively reserved for the Below Poverty Line (BPL) families.
J&K finance minister Haseeb Drabu on Thursday announced a slew of other relief measures for the marginalized community while presenting a Rs. 80,000 state budget for 2018-19.
Read on to know more.
In context
J&K's 2018-19 budget brings relief for transgender community
Benefits
Long overdue: Kashmiri transgenders finally get insured against discrimination
Kashmiri transgenders will now have access to several BPL entitlements such as subsidized food-grains, LPG, and electricity connections.
They can now also avail Pradhan Mantri Gramin Awaas Yojana, government's flagship housing scheme.
Transgender senior citizens (aged above 60) registered with the social welfare department will get pension.
Each member of the community will also be covered under free life and medical insurance.
Details
A life of abuse, assault, sexual violence and restrictions
Strife-torn Kashmir's transgenders are among the most vicitmized Indian communities.
Though there is no credible data, the rural census of 2015 pegged their population at 477. Interestingly, only 97 trans people had registered themselves with the Election Commission in 2014.
They are primarily employed in matchmaking factories and give folk performances in Kashmiri weddings. However, they are increasingly losing work to disk jockeys.
Love India news?
Stay updated with the latest happenings.
Notify Me
Salient features
Kashmir's 2018-19 state budget
Presenting his fourth budget, Drabu also announced:
*Setting up a corpus fund of Rs. 12,000 crore to make timely GPF payments to government employees
*Releasing 1% Dearness Allowance due to employees from July 1, 2017
*Raising minimum wages of unskilled workers from Rs. 150 to Rs. 225, of skilled workers from Rs. 225 to Rs. 350.
*Minimum wage of highly-skilled worker at Rs. 400