Gutkha scam: Secret letter to Jayalalithaa recovered from Sasikala's room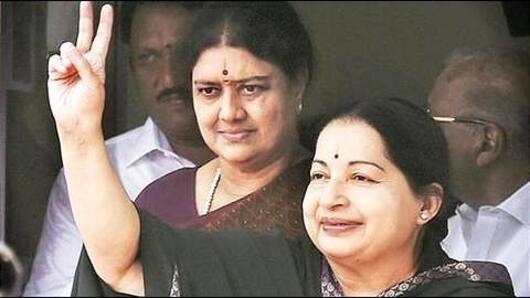 In a startling revelation, Income Tax Department told the Madras HC that a secret letter, regarding the multi-crore gutkha scam, sent to late Tamil Nadu CM Jayalalithaa on 2 Sep'16 was found in Sasikala's room in Veda Nilayam at Poes Garden.
Tamil Nadu DGP's note along with a confidential I-T Department letter, seeking action against those involved in the scam, was recovered.
Here's more.
In context
Letter on gutkha scam found in Sasikala's room
Letter, note recovered in November: I-T Dept.
The I-T Department revealed that it had conducted a search at Jayalalithaa's Poes Garden residence on 17 November 2017, during which it had seized the confidential letter and DGP's note from the late CM's close aide, the jailed AIADMK leader Sasikala's room.
PIL
PIL filed by DMK's Anbazhagan seeking CBI probe
Chennai I-T Department's present Principal Director, Suise Babu Varghese, informed the HC about recovering the confidential letter through an affidavit filed in the court in a public interest litigation (PIL) by DMK MLA J Anbazhagan.
The DMK MLA sought a CBI probe into the alleged multi-crore gutkha scam that involves a Tamil Nadu Minister and also several senior police officials.
Love India news?
Stay updated with the latest happenings.
Notify Me
About
What is the gutkha scam?
The gutkha scam - revealed in 2016 - allegedly involves the Tamil Nadu Health Minister C Vijaya Baskar, the then Commissioner of Police, and other officials.
Madhava Rao, the partner of MDM gutkha manufacturing firm, allegedly paid a bribe of Rs. 40cr to the Minister and police officials for allowing the illegal sale of banned tobacco products in Chennai.
Details
I-T's confidential letter contained crucial information about scam
On 11 Aug'16, the then I-T Department Principal Director wrote a letter to Tamil Nadu Chief Secretary and DGP regarding the alleged scam, according to the affidavit.
Separate letters were sent to them with details on the seized materials in connection with the gutkha scam. It contained Madhava Rao's crucial statements, admitting that he paid bribes to "various parties" connected to the government.
DGP sent copies of confidential letter to Jayalalithaa
In the affidavit, Varghese stated that the confidential Aug'16 letter from the I-T Department to the Chief Secretary and the then DGP requested necessary action. However, the DGP wrote a secret note to Jayalalithaa on 2 Sep'16 and also enclosed the "confidential" letter's copies.