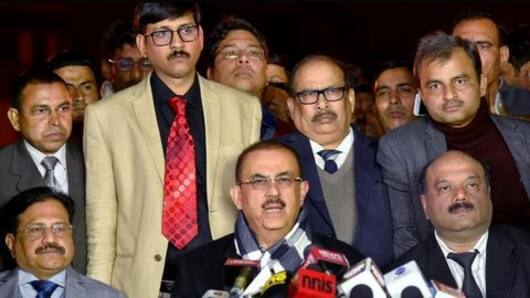 SC Bar Council: PILs only before CJI or collegium
In a first, four senior-most SC judges slammed Chief Justice of India Dipak Misra for the way he allocated cases and his overall administration of the judiciary.
The final trigger was CJI refusing to transfer a PIL case demanding a probe into CBI special judge Loya's suspicious death.
Now, they have received support from the Supreme Court Bar Association (SCBA).
Here are the details.
What led to the impasse between the judges?
Supposedly, the final trigger for the explosive press conference was Loya's death case.
Loya died under "mysterious" circumstances while hearing the case involving BJP chief Amit Shah. A PIL seeking a probe was listed before a bench headed by a judge, 10th in terms of seniority.
CJI refused the four judges' demand of transferring the politically sensitive case to another bench.
Why did the dissenting judges hold a press conference?
Tired of CJI not taking their concerns seriously, dissenting judges held a press conference. They claimed that many times cases were taken from senior judges and assigned to other judges.
Further, CJI uses his "master of roster" as a veto, when it actually means "first among equals".
They said the judiciary as an institution is in danger and asked the nation to "save" it.
Love India news?
Stay updated with the latest happenings.
Yes, notify me
Now, what does the SCBA have to say?
SCBA, apex body of SC's practising lawyers, reportedly agreed with dissenting judges on the Loya case.
They passed a resolution saying all PILs or related matters should be heard by CJI or judges in the collegium, i.e., four senior-most judges after CJI.
SC has two collegium: CJI and two immediate juniors to pick HC judges and CJI and four juniors to pick SC judges.
'Judges' rift is a family matter'
SCBA termed the matter of judges washing their dirty linen in public a "grave concern"; they asked a full court to resolve the issue.
Conversely, regulatory body Bar CounciI of India (BCI) called the SC turmoil "a family matter." They formed a 7-member panel to meet the SC judges for brokering peace.
They urged political parties to refrain from politicizing the matter.