Delhi hit-and-run: Student driving BMW runs over a 50-year-old man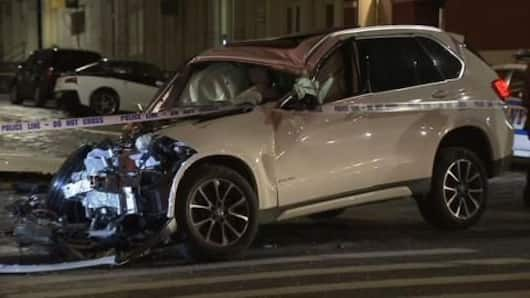 A 50-year-old man was killed in a hit-and-run case near Kirori Mal College in Delhi.
The accused is a 21-year-old student named Abhinav Sahni, an undergraduate first year student at Khalsa College.
Abhinav was driving his father's BMW X1 accompanied by two friends at the time of the incident.
The victim Shiv Nath died on the spot.
Read for more details.
In context
BMW hit-and-run case Delhi
When and how?
How did it transpire?
On Wednesday (17th Jan) Abhinav Sahni along with his friends was driving a BMW from Khalsa College to Kirori Mal, both located in the North Campus of Delhi University.
Around 1:20 pm, Shiv Nath, a 50-year-old who was crossing the road in Maurice Nagar, was hit by the vehicle and was flung several feet in air.
The vehicle then sped away leaving victim behind.
Footage and car part
How was the accused identified?
With no eye witnesses, the police tracked the accused with the help of a small broken iron rod from car's bonnet which was found at the place of accident.
The CCTV footage identified the vehicle as a red BMW X1. Further the broken piece had a number on it which then with the help of the car company helped in finding the vehicle.
Love India news?
Stay updated with the latest happenings.
Notify Me
Accused arrested a day later
Abhinav Sahni, the accused driver, was arrested by the police a day later on Thursday and was booked for death by negligence and rash driving. He reportedly told the police that he fled away from the accident spot as he was scared.