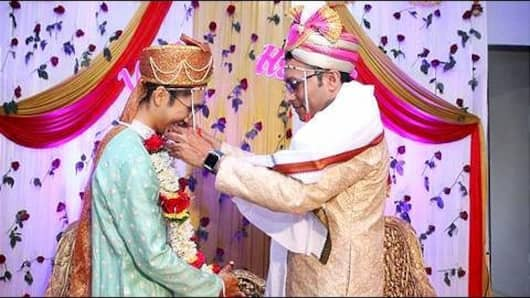 Gay marriage: IIT-Bombay engineer marries boyfriend in traditional Maharashtrian ceremony
In what is being reported as India's first gay marriage, 40-year-old Hrishi Sathawane, an NRI techie, and his Vietnamese partner Vinh "tied the knot" in a traditional Maharashtrian Vedic wedding in Yavatmal.
California-based Hrishi, an IIT-Bombay graduate, met Vinh through an online dating website.
They got married on 30 December, days before the Supreme Court decided to review IPC Section-377, which criminalizes homosexuality.
Couple got engaged last year
After meeting in Oct'16, Hrishi and Vinh got engaged in April last year. The California-based couple came to Yavatmal and booked a hotel for the wedding, which was attended by around 70-80 people. Also, ten gay couples were present at the ceremony.
Father agreed after persuasion but mother didn't attend wedding: Report
Hrishi came out as gay to his parents in 1997. They couldn't accept his sexuality easily; they eventually accepted it after about five years.
His father Mohan Kumar agreed to his marriage with Vinh after "a lot of persuasion." Meanwhile, some reports claim Hrishi's mother didn't attend the wedding.
Though Kumar didn't reveal any details, he said Hrishi left India after the wedding.
Love India news?
Stay updated with the latest happenings.
Yes, notify me
Succeeded in convincing parents: Hrishi
Hrishi also admitted that his parents were against his decision; they opposed him when he was planning a wedding in Yavatmal. He, however, added, "But I succeeded in convincing them...to bless me as I joined my gay fiancé Vinh in wedlock."
Gay marriages illegal in India; ASP orders investigation
Meanwhile, as the news about Hrishi's marriage spread and the couple's photo started making the rounds on various social networking platforms, the Yavatmal Additional Superintendent of Police, Amarsingh Jadhav, reportedly ordered an investigation into the matter.
He asked the cops to submit a report soon. Gay marriage is illegal in India as the SC is still re-examining whether homosexuality should be a crime.