Baby Moshe, 26/11 survivor, back in India after nine years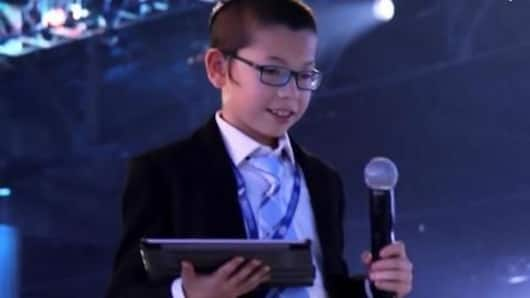 In 2008, when he was two, Moshe Holtzberg and his parents became one of the targets of the 26/11 attacks.
'Baby Moshe', as he became famous, survived, but his parents didn't.
Nine years later, he is back in India, accompanied by his nanny Sandra Samuel, the reason for his survival.
He has many plans, including attending the opening of a memorial for 26/11 victims.
In context
Baby Moshe, 26/11 survivor, returns to India
Attack
Baby Moshe's lucky escape on the fateful night
Moshe's parents Rabbi Gavriel and Rivka Holtzberg had moved to India in 2000-01.
They were working as directors at Mumbai's Jewish Center when the infamous 26/11 attacks happened.
Nariman House, where the family was staying, was one of the targets.
Moshe's parents were killed, but Nanny Sandra found him crying between his parents' bodies, grabbed him and fled the building.
Recovery
A new life afterwards with Nanny Sandra in tow
Now 11, Moshe has since been living with his maternal grandparents in Afula in northern Israel.
Nanny Sandra, an Indian citizen, was granted honorary Israeli citizenship for her bravery. She went with Moshe and has been living nearby.
Moshe's counselors say the attack didn't affect him permanently, though he mumbles Hindi words sometimes.
Last July, PM Narendra Modi met Moshe in Israel and invited him to India.
Love India news?
Stay updated with the latest happenings.
Notify Me
Plans
The India visit happened two years earlier than planned
Though Moshe had planned to visit India when he turned 13, he arrived in Mumbai today, two years earlier.
The two foremost destinations on his itinerary are the Nariman House and Gateway of India.
On January 18, he will accompany Israeli PM Benjamin Netanyahu for the inauguration of the Living Memorial project for 26/11 victims.
A special area will be dedicated to Moshe's parents.
Project
The Living Memorial project to be completed by November'18
For the Living Memorial project, the top two floors and terrace will be dedicated to 26/11 victims.
The fourth floor will become a museum, while a portion of the fifth will be kept as it is, complete with bullet-riddled walls.
It is expected to be completed by November'18.
As for Moshe, he is "bahut khushi" ("very happy") to be back in India.