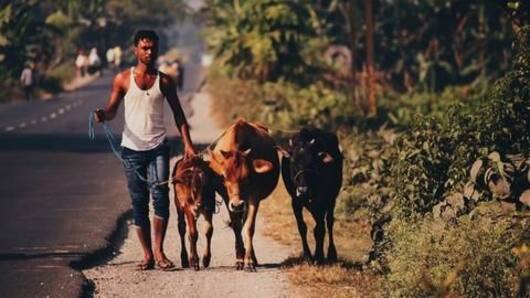 Man has 'unnatural sex' with three cows, one found dead
In a bizarre case, a man in Por village of Vadodara has been arrested for allegedly having 'unnatural sex' with three cows, TOI reported.
The disturbing case came to light when the milkman who owned the cows found one dead on Monday morning.
The legs of all three cows were found tied.
The Varnama police said the accused is mentally challenged.
What happened?
The incident happened sometime in the intervening night between Sunday and Monday.
When the milkman woke up in the morning, he found one cow dead.
After examining further, he suspected someone had had unnatural sex with the animals.
He suspected Rathodiya, who had worked for him as a laborer. Rathodiya had allegedly committed a similar act with a calf two years ago.
Accused booked for unnatural sex, outraging religious feelings
When cops asked Rathodiya, he confessed to the crime. However, he said three other people were also present, a claim that was found to be false.
The villagers apparently told police that Rathodiya had psychological issues. "He even blabbers when he is alone," said an official.
He has now been booked for unnatural sex, killing and injuring cattle and outraging religious feelings.