#DefenseDiaries: India test-fires nuclear-capable missile Agni-V in final configuration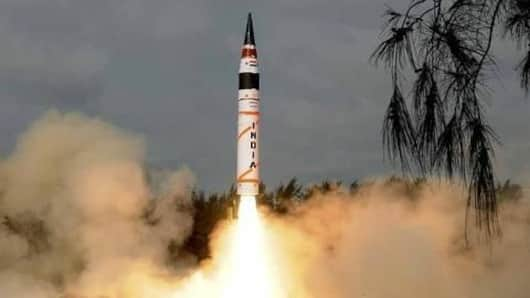 India tested the nuclear-capable Agni-V intercontinental ballistic missile (ICBM) today in its final configuration from the Abdul Kalam Island off the Odisha coast.
"We have successfully launched the Agni-V," Defense Minister Nirmala Sitharaman said.
However, there's no word on whether it had met necessary parameters.
More user-trials are required before it is produced in enough numbers for induction into the Strategic Forces Command (SFC).
In context
With another trial, Agni-V moves towards induction
A brief history about the Agni-V
The Agni-V was developed in 2007. Like all Agni missiles, it too is under the authority of the SFC. With its range of over 5,000km, the Agni-V is India's first ICBM. It has undergone four experimental tests before, in April'12, September'13, January'15 and December'16.
About
Agni-V, India's first ICBM, developed as a deterrent to China
Agni I, II and III, with shorter ranges, are more suitable for targeting Pakistan, but the longer-range Agni IV and V are widely accepted as a deterrent to China.
With its strike range of over 5,000km, the Agni-V will be able to reach China's northernmost parts.
Beijing had said they believed its range to be 8,000 km. India, however, has maintained ambiguity.
Love India news?
Stay updated with the latest happenings.
Notify Me
Categories
India's ballistic missile arsenal by range
For short range ballistic missiles with ranges between 300-1,000km, India has Prithvi, which has a range of 350-600km.
In the medium range ballistic missile category (1,000-3,500km), India has Agni-I (700-1,250km), Agni-II (2,000km) and Agni-III (3,000km).
The 4,000km Agni-IV falls in the intermediate ballistic missile category (3,500-5,000km).
And finally, in the intercontinental ballistic missile category (greater than 5,500km) comes Agni-V with a range of 5,500-5,800km.
SFC
India to join a super-exclusive club with Agni-V's induction
The SFC was established in 2003 to supervise India's nuclear arsenal. It is responsible for a myriad of services, from delivering nuclear weapons to selection of target area.
Almost all tasks require approval of the Nuclear Command Authority (NCA).
Agni-V's induction into the SFC will make India one of few countries with ICBMS. Only the US, Russia, China, France and UK possess similar weapons.